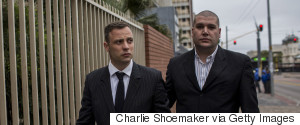 The South African Supreme Court of Appeal's unanimous decision to find Oscar Pistorius guilty of murder by overturning a lower court's verdict of culpable homicide has important implications for the country's judicial system.
The Pistorius case presents no evidence of planning. To the contrary, if there is testimony that a heated argument preceded the murder, then that is more supportive of negligent homicide than premeditated murder.
On a purely academic level, the Oscar Pistorius trial is a perfect example of why we need the strong and fair justice system that will allow society to search for the truth of what happened that night.
While we may all admire Mandela inordinately, he is not a happy example about how much a great man can bring his country along with him.
Pistorius, a double-amputee and Olympic athlete, took the world by storm with his "beat-the-odds" mentality and uber-optimistic approach to life. These are undeniably traits that Pistorius will need to exercise to his full advantage in the upcoming months.
Just when some talking heads were laying out the game plan for a steroid-induced diminished capacity defense, along comes the revelation that the report about finding steroids was false.
When Dick Traum, the first amputee to ever run a marathon, learned of Oscar Pistorius' murder charge, he was devastated.
Granting Pistorius bail was no easy verdict to reach and at times it sounded as though Nair would have to just toss a coin, as there seemed compelling gaps in both side of the argument as to what really happened.
And the hottest team in the NBA? That would be the champion Miami heat: It's now nine straight wins.
I was just in South Africa (happening to departing on the day this story broke, and catching up with it on landing in New York) and despite several decades of covering that country, I've rarely seen an event there capture international media reaction quite so feverishly as the one of late.
I'm glad Michael Jordan only turns 50 once. How much air time and written space was wasted arguing who is better, Jordan or LeBron James?
A lot has been written about how the tragedy will mean the loss of a hero for the sports world and for people with disabilities. But, Pistorius isn't just any old sporting hero.
The "Blade Runner," South African Oscar Pistorious has been charged with the murder of his girlfriend. He was the first double amputee to run in the Olympics in London last summer.