2017 is finally here, which means that we're looking forward to a change of pace in every facet of our lives. While we love a compelling, high-contr...
There are some hard and fast rules when it comes to interior design. Dining room chandeliers should hang 60 to 66 inches off the floor. Never match th...
So what makes a good first impression? Truth is, the color of your home is often the very first thing potential buyers notice when looking at a prospective house. Paint has never been so important.
Bright, cheerful, classic and amazingly versatile, coral has a lot to offer. And because it works well in small doses, it's easy to give your space a boost with this vibrant color. Here are 10 reasons to add coral to your home.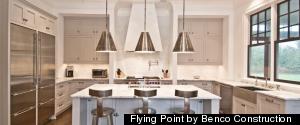 Painting your kitchen walls is one of the quickest, and easiest ways to re-do a kitchen. Before you rush out and buy gallons of paint, think carefully about what your dream kitchen looks like.
June 23rd is National Pink Day, but we're celebrating a little early this year! We couldn't wait to highlight homes for sale that use pink in all the right places.
Oranges and yellows are obvious choices for a quick way to brighten up any room. While they are more popular for spring and summer, they can add some sunshine in the colder months, too! Dayton suggests using blood orange.