Kids are always asking questions, and summer gives them the perfect opportunity to explore and learn new things. New York City was still cold just a f...
How are gender roles in parenting evolving in the 21st century, and what still needs to happen? originally appeared on Quora - the knowledge sharing n...
I try to use the tools I used previously in order to heal my relationship with them but nothing is working. All loving thoughts have left the building.
What are some ways parents can help educate their children on gun control and violence? originally appeared on Quora - the knowledge sharing network w...
I'm a longtime educator. Recently, I packed up my office at school to come home for the summer. I had collected cards and notes from students during the course of the year, written by those same teenagers we all accuse of being self-centered. They're not.
It is so hard to believe the fact your baby is already 6 weeks old AND how different they look in photos from 10 days old! When I look at these photos of my baby now, it's really noticeable how much more little all his features are. It's exciting to see him get more expressive and lifting his head but also slightly sad that they do in fact grow so fast just like everyone tells you.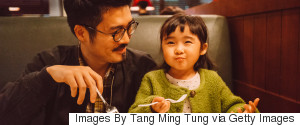 When I take my kids out to restaurants, they get to experience what it's like to eat in a place other than their table at home, and they get to learn proper manners in a public setting, and they get to observe the ways that other people conduct their meals and be glad that we don't allow phones at our table.
Today my patience has run thin and all I could think about was having a few minutes to myself, but as you fell fast asleep on my chest, it was an easy choice despite a list of things needing to be done. Because instead ... I held you. I was feeling frustrated the other day and I couldn't exactly put my finger on why, but then it hit me: I am the dumping ground. I knew it, but I didn't really know it. You know?
By Sarah Ann Noel The second time around is totally different, isn't it? Maybe your bump is getting less attention, and you thought that'd be a rel...