The more you expose kids to healthy foods, the more likely they are to eat them. If the majority of your meals are coming back home in your child's lunchbox instead of being eaten, maybe it's time to make it a little more appetizing with some creative food animal recipes.
Before my first was born, I had a vague notion that parents more and less had it all together and did everything deliberately according to their parenting philosophy of choice; now I know that we're basically making it up as we go along.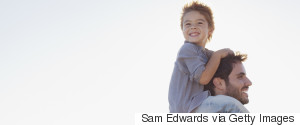 want you to fail because you might have to try 20 activities before you find the one you know you cannot live without. Finding that one activity might be worth batting ninth, riding the bench or messing up an instrument solo. Believe me, I did all those things myself at some point or another.
The alarm went off at 5:00 a.m. and we sprung out of bed. My wife, Lauren, and I knew it was going to be a crazy day. Of course, every day is crazy when you have two toddlers but this was shaping up to be a whole other level.
Growing up in a world with an ever-increasing number of influences, fast-paced changes and technological bombardment, even without our choosing sometimes, there is a critical need for us, as parents, to stay connected with our kids.
Where did the summer go? Fall is just around the corner and "back to school" is on many parent's minds. The challenge is getting school back on the mind of your "live-in" student. If you want your child to hit the ground running academically this school year, then it's time to retrain their brain.
When I think about teaching my child a lesson, I want it to be one of love, forgiveness, and understanding. I want to be a safe haven, not a person to be feared or avoided, in times of despair.
Education is not about being taught more and more reasons about why we alone are right and everyone else is wrong. Rather, it is a process of being given more and more air, a wider perspective that affords us a grander, more Olympian sweep of everything.
Standing in a crowded gym I watched as my teenage son and several of his friends took to the basketball court. He's been playing sports since he was f...