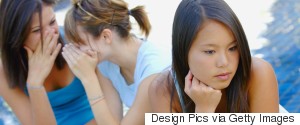 Finally, college sexual assault is being taken seriously. Even Obama has made it a top priority for his administration, releasing guidelines on how these cases are to be treated by colleges. But, here's the problem: It's not just about college. It's also about the pervasive sexual victimization of girls in high school.
I'm enjoying a wonderful turkey dinner at my parents' house when out of the blue my mother says: "Before you go home, be sure to take a look at the wild animal in the garage."
In the spirit of full disclosure, I will admit that I was being a bit hypocritical at the time. But that's my prerogative as a parent, right?
What Tim Gunn (anyone else who tries to "make it work") is actually telling us to do is to forgive ourselves, to accept our greatest parenting triumphs and the things we perceive as the fails.
With so much discussion and debate going on about how to improve our nation's schools, we must also be thinking of smart, proven ways to invest in children's development that are more than just corrective steps.
2-year-olds: It doesn't matter if shoes don't match or if they're different sizes. Just put them on. Shoes are shoes are shoes. Stop trying to match them and put them on the right feet, parents.
What happened to the tiny little thing that was completely dependent on mom and dad just a few short months ago?
Nyasia shouldn't have to wish for warm, fuzzy boots. But she does. And every day I am reminded that there are thousands of other kids in foster care and group homes around our country that are just like her. Their wishes are so simple it can break your heart.
Before, I was spending lots of time throwing back pints. Now, I am spending time with pint-sized children.
Keeping your devices safe and secure is vital these days, especially when your children are using them. Here are five tips for child-proofing your electronic gadgets.