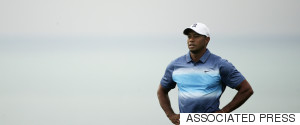 It's time to leave Tiger Woods alone. I personally hope he can find his way out of whatever has him down right now. I hope he starts winning golf tournaments again. I hope he wins another major and comes closer to breaking Nicklaus' record.
Until now, television was the closest I'd come to seeing the Masters, and although many friends had told me about the tournament, nothing prepared me for the perfection that is the Augusta National Golf Club.
Does Tiger really believe he can win each and every event he tees it up in? It's a pretty bold statement from a bold guy, but here's the thing: if anyone else made that statement it would be hard to believe, but coming from Tiger Woods not only does he believe it, it's very possible.
Tiger, who has not won a major championship since the 2008 U.S. Open, looks as strong as ever, yet something else jumps out: his mental performance.
While the internet was buzzing over Michael Phelps' 22 Olympic medals and Jim Furyk's epic collapse at Bridgestone, John Daly was quietly putting together his best tournament in years.
If Tiger Woods wins the PGA Championship this weekend on The Ocean Course in Kiawah Island, S.C., they should put his given name on the trophy -- Eldrick.
Quick, who won last year's PGA Golf Championship? 14% more of you should know. Last year, when Martin Kaymer won, that's how much higher the ratings were than Sunday. So what's the reason?
Say what you want about golf not being a sport for the masses, but tell me another major championship that can be won by somebody you never heard of?
The 2022 World Cup will be staged in Qatar. Big problem. It's a tad toasty in that part of the world in the summer. So word has leaked out that they could switch to three 30-minute periods to give the players a break.
Colorful Patriots wide receiver Chad Ochocinco is looking for a roommate. And not a teammate. He wants to bunk with a regular old fan for a few weeks so he can learn the ropes of his new town.
Let's face it. Golf is not the same without Tiger. The young guns that have burst upon the scene have played admirably, but none of them have come close to showing the dominance or consistency that Tiger had when he was on his game.
After his showing over the weekend the whispers of Tigers' demise have now become public proclamations. Is Tiger Woods finished? The short answer is no.
Let's give credit where credit is due: Y.E. Yang won the Wanamaker Trophy. Period. Many will say Tiger Woods "lost" the tournament. No. Yang hit the ...