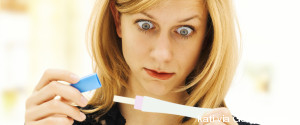 Hey, once you've gained 50 pounds twice, had your vagina sewn back together twice, had milk leak from your boob in public more times than I want to count, and somehow agreed to do it all over again, nothing is sacred.
Following the 12-week rule had been, for me at least, damaging. In fact, I'm not sure it's doing anyone any favors.
My husband and I have recently started letting people know that we are pregnant, and it has been so exciting, but also very interesting. It is our first child and let me just say that you get treated very differently when people know you've got a bun in the oven.
What's the best way to tell your family that you're expecting a "bun in the oven"? Check out this video and watch the creative ways loved ones share the news, "I'm pregnant." Whether the happy occasion is shared outright or in a more abstract fashion, the reactions you see will even make you jump for joy!
First things first: I'm happy you're pregnant. Thrilled, in fact! Someone else will be joining me in the life-consuming spiral of anxiety and awe that is being a parent? Hooray!
Two of my friends just announced their pregnancies. Their first pregnancies. I realized that I have a three-part reaction to pregnancy announcements now that I have kids.
I totally get that there is this whole "to each their own" thing when it comes to this stuff, but some of the announcements out there are just tacky!