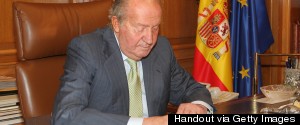 Older and worn out, the king who once apologized to his people, is now leaving office. By choice, yes, but also driven by the reality of a country that has long stopped considering him untouchable, a time when his crucial role in the transition of the country to democracy is diluted in memory and is not enough to ensure the unconditional support of the people.
The Prince of Wales' office announced that over 40 members of foreign royal families are on the guest list, although as I've said before, the palace does not customarily release the names of individual invitees.
In regal and triumphant fanfare, Sweden's next Queen, Crown Princess Victoria tied the knot on June 19 in the largest royal wedding since Charles and Diana.