2014 saw a mixture of advances and stark reminders of continued injustice. The gay journey in America proceeded on many paths in 2014. Here are highlights.
Organizations like FIFA and the country of Qatar take away from the true spirit of the sport through their discrimination. Discriminating over one's sexual preference is uncalled for in any and all circumstances. It's common sense that homosexuals are no better or worse than anyone else, and should be left alone to live life on their own terms.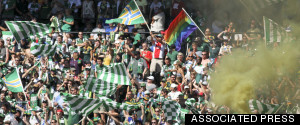 It goes without saying that this has been a bad couple of weeks for the NFL, so much so that a tweet -- post-Ray Rice, pre-Adrian Peterson -- came my way that read, "Let's all start watching soccer instead!"
Cyd Ziegler, co-founder of OutSports, talks with me about the societal impact of athletes speaking up about their sexual orientation, and what can be done to improve LGBT acceptance in sports.
In 2003, I was a redshirt freshman at the University of Nebraska-Lincoln that decided to come out in high school. But I wasn't sure if I could handle being the first openly gay Division I college football player.
I know that maybe some of you are surprised, and maybe some of you aren't. I also know that the last time you and I spoke, might be the last time we will ever speak. I know that for some of you, it's only just opened the friendship that we have, and for others maybe unfortunately it just ended the one we had.
It's often referred to as one of the last gay taboos in Britain: an out gay professional footballer. But why does a large proportion of the gay (and straight) media, as well as a large section of society in general, seem to be obsessed with the prospect of an out pro footballer?
If soccer really gave him such incredible joy, there is no reason that he can't discover himself while still on the team. Presumably, they will allow him to visit gay bars and join LGBT political organizations after practice is over, so I don't really see the conflict.