Is it just me, or does it seem like the beauty industry is either black or white? I'm not only talking about skin color, curly or straight hair, blond...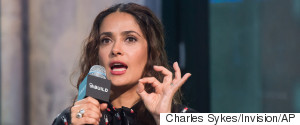 These influential Latino figures -- including award-winning actors, directors, writers, and entrepreneurs -- are making an impact on their respective industries as they change perceptions of cultural identity.
When a Hollywood superstar strives to help heal the world, just a little, I'm impressed. But when a movie star does it over and over again, uses her influence to create projects that help bridge the divide and help us understand "the other" we're so often afraid of, I can't help but call her a heroine.
17 years after 54 originally opened in theaters, the filmmaker, Mark Christopher, is finally able to share the movie he wanted to make in the first place. 54: The Director's Cut premiered this year in Berlin and continues to be a hit at the film festival circuit.
Our annual Khalil Gibran "Spirit of Humanity" Awards Dinner serves as a reminder of why we do the work we do. It speaks to us of the goals we've set for ourselves, the progress we've made, and the challenges we continue to face.
This year's Berlinale is certainly woman-centric. There are exceptional leading ladies commanding the red carpet as Juliette Binoche did on opening night, in her tuxedo-inspired white gown and fresh make up.
Rihanna hosted the first ever Diamond Ball supporting her Clara Lionel Foundation at The Vineyard in Beverly Hills.
Movies change us, for the better or worse, lets deal with it.
This year the Ajyal Youth Film Festival, in its second edition, is going to be phenomenal, mark my words. The six-day event will kick off with the world premiere of Amber Fares' Speed Sisters, a documentary featuring the stories of Marah, Mona, Betty, Noor and Maysoon -- the first all-woman rally-racing team in the Middle East.