Rihanna hosted the first ever Diamond Ball supporting her Clara Lionel Foundation at The Vineyard in Beverly Hills.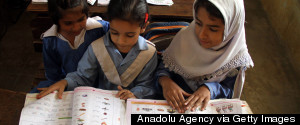 On this International Day of the Girl, let us shelter and support young girls' dreams, and help those millions of tiny flames become a sun that lights the sky.
Since how we navigate this period will determine the second half of life, the stakes at midlife are high. If we've made the right choices, then ultimately we're not different from who we once were -- we're more authentic and real.
Charlize Theron, while incredibly beautiful with long hair, was heart-stoppingly gorgeous with her grown out pixie. The absence of volume around her face helped you see just exactly what makes her so captivating.
Just yesterday, I spent the day at the United Nations, where I received an award from Salma Hayek Pinault and the Avon Foundation for my organization's work in Tanzania to end violence against women.
"My argument in favor of educating girls is more practical. We should do it because it is an incredibly powerful tool for ending global poverty."
While writing a romantic comedy, The Billionairess, I thought about the archetypes I hoped to break and the ones I love.
Could the look of the quintessential American beauty be changing as our population changes?
The movie is a combination of hope, humor and heart. After a somewhat slow start, the movie wins the audience over and pulls them into this story of a man with a mission.