The interaction between body painter and human canvas is an integral component of both the process and the final result. For Robin Slonina who left a successful career as a mural painter to focus full-time on body painting, there is magic in the experience of seeing an artwork come to life.
We grow up in a world that loves comparison. The truth is there will always be someone who is doing 'better' than you, and someone doing 'worse'. Instead of wasting your energy and time looking to other's for validation, we should try to compare our success and merits to our own standards.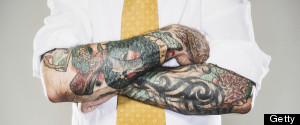 It's easy to condemn what we don't understand or would never do ourselves. But maybe we should pause to consider the messages that tattoos are sending. In the process, we might love and understand our neighbors just a little better than before.
I also believe there is a time and place for everything, including where and when to bare your body in social situations. Do it because your are comfortable with your body. Don't do it if may makes those around you uncomfortable or someone is pressuring you.
A luxurious treatment that smells of everything pumpkin latte goodness for your face, and it actually works.
You'd be surprised what you can do with a little table salt and Dove soap.
I think I always knew that being pale in a tan-worshipping world was an uphill climb.
Community gardens have been shown to improve a neighborhood's quality of life, offering a number of environmental, health, and cultural benefits, but did you know that they can also contribute to better-looking skin? Here are the top ways gardens can help skin glow.
Much like Dexter Morgan, the lead character of Showtime's serial killer series, I go about life with a "dark passenger" in tow. Except what's haunting...