Read More:
Gordon Brown,
Syria News,
Syria Refugee Children in Lebanon,
Help Syrian Children,
Syria Refugees Lebanon,
Najib Azmi Mikat,
Syria Refugee Childrem,
Syria Refugees,
Gordon Brown Syria,
Najib Azmi Mikat Syria,
Syria,
WorldPost Middle East,
WorldPost Culture,
World News
---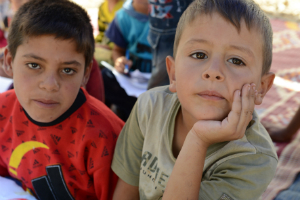 Many people live huddled in tents, makeshift huts and overcrowded tenement buildings. They lack clothing and proper shelter, clean water and sanitation. There is also a great risk of epidemics of waterborne diseases, measles and tuberculosis spreading. But in addition to shelter, food and medicine, children need something else. They need hope. And it is the offer of education that can demonstrate to young people that it is worth planning for the future.