Being an entrepreneur doesn't necessarily mean you need to be the one to create the next Facebook or Uber.
Major League Baseball was lily white, for players and management alike, until Jackie Robinson left the Negro Leagues to join the Brooklyn Dodgers in 1947. How much progress has been made toward the goal of diversity since then? Not enough.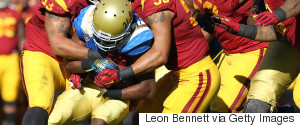 In recent years the arms race has come to the training table where the team dietitian has been replaced by a team of dietitians, and gourmet chefs have been hired by athletic departments.
I have dealt with the South and southern politics in previous posts; so we are not going to break major new ground here. But I think it is worthwhile to update what some of today's experts are saying about the South and its role in American democracy and history.
At the most recent conference this spring, Jonathan Knuckey (University of Central Florida) presented a particularly blunt characterization of citizens on both sides of the Mason-Dixon line.
Your college team may have battled its way into a top bowl game, but are its fans die-hard enough to fly in for the match-up?
Needless to say, more UCF students are exploring new ways to stay cool without wearing shorts. Her linen dress is an exemplary demonstration of how students are doing this, combining Florida comfort with the unique style vintage apparel offers.
President and Vice Presidents of University of Central Florida, if you are reading this, I am willing to work with your team to come up with innovative solutions for the future of UCF.
Last Spring semester at the university I teach at, an incident occurred in my cross-cultural psychology class related to my discussion of religious bigotry in society. The incident prompted me to send an email to my students later that evening that ended up "going viral."
The University of Central Florida sits in the center of the swing area of one of the most important swing states in America. Our student body, along with students from across Florida, has the potential to swing the tide of any election.
Does it make sense to build a new state university when so many are already experiencing short falls? The actions of both our state legislature and Governor have left the class of 2012 scarred.
My 14-year-old daughter Ally is aware of the importance of education because she sees how hard I work. I've shown her that it's possible to obtain a higher education regardless of the hand you were dealt. I became pregnant with Ally when I was just 19, and was a single parent before I even gave birth.
Anyone who has looked at the research on student cheating knows that the problem is rampant on college campuses.
It is time to stand up and demand that our public places and spaces have clean, working, water fountains. Even today, when our tap water is remarkably safe and inexpensive, we need water in our public areas.
Team Rock The Vote is mixing civics with our last moments of sunshine by running the largest, most-aggressive midterm campaign in our organization's 20-year history. Election season has arrived and we're ready to bring the heat.