Women's Foundation is known for our work in identifying key issues that put women at a disadvantage and then finding solutions to improve those areas....
Photo by: Sarah Pitts Lawrence, Kan.-Voters in five states and Puerto Rico hit the polls this weekend in a blitz that rivaled Super Tuesday last wee...
The University of Kansas overreached when it expelled a student who posted profane, insulting tweets about his ex-girlfriend while under a no-contact order, the Kansas Court of Appeals ruled Friday.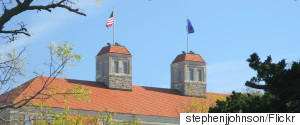 Documents released last month in the settlement of a lawsuit at the University of Kansas offer a revealing window into an underreported Koch brothers' strategy: targeted, politicized funding on college campuses.
Kansas State University and the University of Kansas are butting heads over how heavily universities can and should supervise student speech off campus under the guidelines set by Title IX to govern sexual harassment.
If we compare Black child well-being in America to child well-being in other nations, the U.S. Black infant mortality rate exceeds that in 65 nations including Cuba, Malaysia, and Ukraine. Our incidence of low-birth weight Black infants is higher than in 127 other nations.
For free speech advocates, the university's decision to renege on its agreement to hire Salaita reached its nadir with Chancellor Phyllis Wise's half-baked invocation of "civility" as some kind of justification for ditching the professor.
The Kansas Board of Regents, many members of which have been appointed by the governor, has voted to restrict academic free speech.
Professor Guth accepted the suspension, apparently because he was receiving threats. But if he's receiving threats, it's the university's duty to protect him, not suspend him. In a free society, we can't allow those who threaten speakers with violence to win by silencing voices they don't like.
How do you live with yourself when you click on a website or read a pundit's column or turn on a "news" show and find yourself exposed yet again to hatred and stupidity and raw prejudice delivered so slickly it almost sounds like reasonable opinion?
Although I had a life plan bound for a career in medicine, I learned that a liberal arts education is about being open to new ideas and experiences.
It's rare to find anyone who cheerfully admits to liking attorneys. On May 6, filmmaker Morgan Spurlock, the mind behind Super Size Me and Pom Wonder...
Careful review of the circumstances in specific regions of Mexico and the same precautions and common sense that is employed at home could mean the difference between gaining study and understanding and ignoring an opportunity.
Ultimately, we can't shop our way to sustainability. Reduce is the first edict of environmentalism, with Re-use and Recycle following close behind.
Next to crude oil, coffee may be our strongest addiction. More than half of Americans fuel themselves with one to four cups of coffee, totaling upwards of 330 million cups daily.