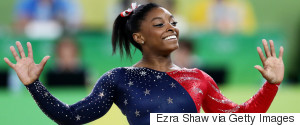 You're amazing Simone, and the world is JUST getting a glimpse of how great you are. Continue to make progress, and enjoy your life. America will turn it's back on you. And when it does, do exactly what you've always done...win.
To every adoptive mother or father out there, you ARE a parent. You are validated. You are real. Your love and devotion and time and sweat and unconditional love make you a parent.
Are you a numbers person? Then you'll like this. The Bahamas, Chile, Algeria, Georgia, Israel, Lithuania and Venezuela, just to name a few, have won fewer medals than Michael Phelps in the history of their Olympics participation.
The oldest member of the United States Olympic women's gymnastics team is only 18, but what the five team members lack in age, they make up for in competition experience, talent, and ambition.
I realize female gymnasts are petite, but I could think of a variety of less sexist and more relevant adjectives than "adorable" to describe them. How about strong, fearless and dedicated?