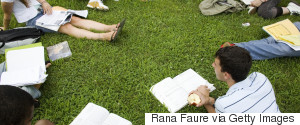 Speed-faithing helped address the elephant in the room by breaking the ice so that students could begin to talk about their religious beliefs and practices. It provided an important point of entry for beginning the work of sharing and listening in order to find common ground.
As educators we aren't so great at telling our own stories. We need to learn to take responsibility for highlighting our profession more so that the stories that our schools abound with get told well.
I am fed up with teacher-bashing. It seems everyone is willing to belittle teachers. But these same critics are not willing to step forward and do the job themselves.
By valuing, enhancing, and promoting the path of liberal arts, we thus make our country a more vibrant and richer place. As opposed to being degrees to nowhere, the liberal arts truly provide a portal to anywhere.
Schools are imploding with the consequence of these changing demographics. Perhaps more than ever before in our nation's history, ensuring a quality education, and the contingencies thereof, is increasingly challenging.
Over 100 people packed into the multipurpose room at one of 721 Democratic caucus locations in Salt Lake County, a turnout exceeding even party officials' expectations. There were young voters, Latino voters, moms and dads with babies, and seniors.
Clearly there's a movement to get people -- with the help of teachers and counselors -- to think before marrying or divorcing. It sounds like a good idea, but do marriage prep courses work?