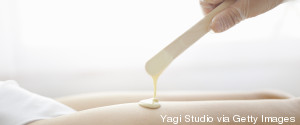 Have you ever imagined what it's like being thisclose to vaginas all day -- no, not like that sadly -- you know, for work? The life of a Brazilian waxer is never dull! In fact, sometimes it's downright disgusting.
It's a form of torture for which we actually pay good money and we submit to it, if not happily, at least willingly. And we do this so that what nature gave us can be tweaked into a new version of what's acceptable.
My little hiatus from shaving has been awesome. I've learned some new things about myself, engaged in some substantial, thoughtful dialogue with many peers, and got to play around with some social norms.
Do you find that having someone massage your feet and polish your nails soothes your anxiety? Do you get uneasy when your hair stylist is on vacation or can't fit you in for monthly highlighting or coloring?
Why do so many men shave their chests now? Because, as I told the skeptical Army doctor, it shows off muscle definition. That's to say: It shows off. Now that metrosexuality is pretty much "normal," young men think nothing of wanting to be sexy. To be hot.
I'm not just worried about how painful it will be.
"Telling my daughter that weight doesn't matter while she sees me berating myself as I step on the scale every morning probably isn't good parenting, right?" Bingo.
when I raise my eyebrow at a New York salon offering waxing for girls 15 and under, you can be assured I am raising a pretty big, bushy and opinionated eyebrow.   
Emily Zhang's story begins in Tianjin, an enormous city in northern China. The house was always filled with music, and, early on, Emily decided that she wanted to scale the scales, too.
Is it necessary to start caring about aesthetics at such a young age of seven or eight? It seems excessive to take such a young girl to have her leg hair removed. A difference in opinions.
What a joy, my tiny tweezer, Economic people-pleaser. No more waxing, money's tight. I pull my own hairs out at night. ...
How far would you go to get Brooke Shields-caliber eyebrows? Some women who have put their brows through waxing, tweezing, and shaving are now turning to brow transplants for salvation.