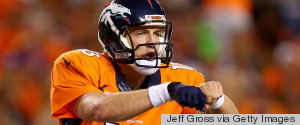 Until Peyton Manning hangs them up, he and Andrew Luck will play against each other at least once a season. That once is Sunday night.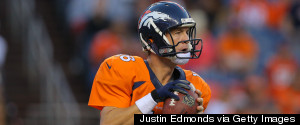 The Predictalator has run every Week 1 2014 NFL game 50,000 times. This allows us to rank all players based on their expected fantasy football output in the upcoming game.
This Sunday, for the third time in the recent Super Bowl era, the NFL's best offense will face the league's best defense. In the previous two instances, the top defense won -- rather famously so.
This is the 14th career matchup between these two future Hall of Fame quarterbacks. Expect it to live up to their reputations.
It was not through a charity act on the part of the Giants that gave me the opportunity to play football again -- I regained my spot on the team through months of hard work.
The opening of a first-degree murder case against recently released tight end Aaron Hernandez is likely also the closing of the New England Patriots' window to win another Super Bowl with quarterback Tom Brady under center.
When the infamous Adam Schefter tweeted on Wednesday that the Broncos were in "serious talks" with then New England Patriot Wes Welker, and that a decision was "expected today," I immediately thought it was a smoke screen.
Texans receiver Andre Johnson, running back Arian Foster and quarterback Matt Schaub are possibly the league's most dangerous offensive trio, but the key to stopping the Texans' Big Three will be the Patriots' big 325-pounder: nose tackle Vince Wilfork.
Sunday Night Football usually produces some of the best games seen from season to season in the National Football League, and this week, the stakes couldn't be any higher -- or the game any better.
Along with an excellent finish, Sunday night's Patriots-49ers matchup provided an excellent showcase of both the advantages and drawbacks of building an offense centered around a quarterback tasked with being a "game manager."
The clock is ticking toward Monday's deadline for the application of Franchise Tags (the Tag) across the NFL. I expect a number of Tags, with teams waiting until the deadline to apply them. Here are some answers about the Tag.
Hypothetical tweets from real NFL figures! @JasonWitten Can you believe our luck? The Redskins already stink, and now they're starting Rex Grossman...
In this Wildcard Weekend Preview, we welcome back our resident Dallas Cowboys expert to reflect on Texas's loss in the BCS and on the Cowboys upcoming rematch against the Eagles in Dallas.
The NFL has been under criticism for curtailing celebrations, which led to the nickname, the No Fun League. "You're god damn right we're the No Fun League," said an NFL owner.