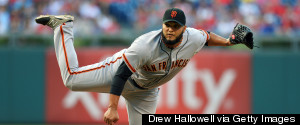 An all-West Coast World Series, a distinct possibility at this point, would present an image of baseball that is young, new and forward-looking, despite the inconvenient time zone for many in the East Coast.
It's conceivable that the MLB could make this a "Jackie Robinson moment" by embracing the cause of these Cuban players and demanding hearings toward a more rational policy than the embargo. Creating a level playing field for the players might spark public interest in a level playing field for the two countries.
Despite four pennants and two World Series victories, the Mets have embraced the lovable loser narrative. This is a difficult thing to define; clearly Mets fans to prefer their team to win, but the existence of this narrative, even though its relationship to reality is more tenuous, gives the Mets a more forgiving environment than some teams.
Recent reports in ESPN Magazine and LA Magazine about LA Dodgers slugger Yasiel Puig's perilous journey out of Cuba highlights the risks facing Cuban ...
The Los Angeles Dodgers, pre-season favorites according to most baseball analysts and experts, are currently in first place in the NL West and have the best record in baseball after beating the Arizona Diamondbacks in a two game opening series in Australia.
Whatever the Dodgers do, it's clear that they've put a lot of pressure on themselves to win now, and in the season to come, that's how they will be judged.
"Adam Wainwright acted like Hulk Hogan after he won Game 5 against the Pirates, so he shouldn't be saying anything about Mickey Mouse stuff." That's what former All-Star reliever and 4-time World Series champion Jeff Nelson told me.
For a group of fans who pride themselves on rooting for a team allegedly steeped in class. These tweets simply can't be ignored.
With the season winding down there will be a no-win situation featuring Puig and that situation is the Rookie of the Year Award debate.
Puig has played, as of this writing, exactly 33 games in the Major Leagues. The Dodgers, who had a lot of money, now have a lot less, because they agreed to pay him $42 million over seven years.
With Major League Baseball's All-Stars now officially announced in the form of an awkward studio TV show, it seems like a perfectly good time to ruin the buzz of this year's All Star Game and instead, focus on the negatives.