Any really big problem - peace, poverty, the environment - will have many solutions, plural. All of them will include a component of education; some of them can be addressed with only education; none of them is without some element of education. Education is the key to hope, the basis for full human and social development, critical to prosperity and the basis of human understanding. Seventy-five percent of girls in Afghanistan get no education. Fifty percent of all children in Nigeria and Pakistan get none. The average grade level achieved in the developing world is below 4th grade.
One Laptop per Child (OLPC) is a non-profit, humanitarian organization whose purpose is to provide educational opportunity to the world's poorest children through ownership of a connected, rugged, low-cost laptop with content and software designed for collaborative, creative, joyful and self-empowered learning. To this end, OLPC designed and built the XO laptop. It can run on a small solar panel, communicate with other XO's, use Wi-Fi and even run with its keyboard submerged. The XO is the most ecological laptop created. This little green laptop is the only machine designed from the bottom up with children and learning in mind.
OLPC's principles include: child ownership, regional saturation, primary schooling, basic connectivity, free and open software. The results are astonishing. Improved reading comprehension, better language acquisition and increased critical thinking are just some of the outcomes being measured. But more than anything, there is a palpable energy and undeniable enthusiasm.
The idea is to leverage children themselves, inside and outside school, in a manner that captures their innate curiosity and stimulates a passion for learning. Some of the children we want to serve are homeless. Many others don't go to school, or if they do, they lack books and basic educational infrastructure. Under these extreme conditions, is a connected laptop one of the first things you give them?
You bet it is. It completely transforms a village and changes the role of children, making them the agents of change. Teachers love the laptop as well. They consistently tell us four things: they have never enjoyed teaching so much; enrollment and attendance increase, discipline problems plummet and parents previously uninvolved are suddenly engaged. In one pilot school we ran, twice as many children showed up for first grade the second year (and they were not coming from the neighboring village). The laptops changed the whole community. School is now cool.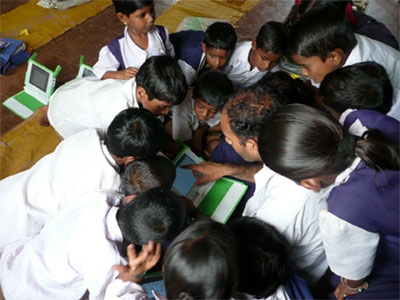 Today, a half million laptops are in the hands of children in 31 countries - very soon to be a million. Some countries, like Rwanda, Uruguay and Peru are doing every child in their country. Others are just beginning, like Haiti, Mongolia, Afghanistan, Ethiopia, Ghana and Lebanon.
100,000 of those laptops came from people like you who participated in last year's Give One Get One campaign.
This year, starting on November 17, you'll be able to give a laptop for $199 or give and get a laptop for $399 on Amazon.com. Check out www.laptop.org and read about the education revolution, or visit www.amazon/xo after November 17th.
Give a laptop. Get a laptop. Change the world.