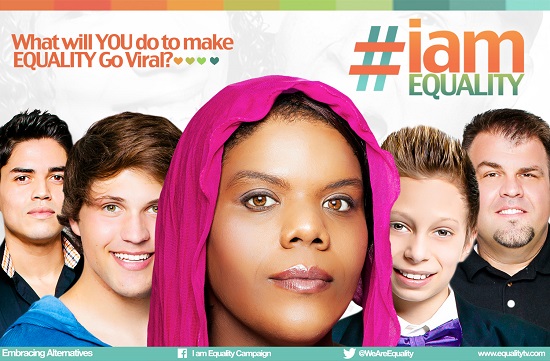 As my second year on the BlogTalkRadio Network kicked off July 1, 2013, I was honored to have some of the organizers of the worldwide "I Am Equality" campaign on SnowbizNow for the official announcement of their appeal to the world, "Let's Make Equality Go Viral."
The organizers say:
Our mission is to celebrate self-expression to educate and inspire people to embrace diversity, culture and equality within communities, families and individuals across the globe.
The campaign was created by Equality TV. Per their website:
EqualityTV is a global entertainment network, online broadcasting platform, and social community. We promote creative & innovative content that is both entertaining and purposeful to fulfill our ultimate purpose of coloring the world!
In a nutshell, on Aug. 17, 2013, in cities across the world, major photo shoots will be taking place to create powerful images in which people proclaim what they will do to make equality go viral. Organizers are seeking photographers and volunteers in an ongoing fashion but have already locked in over a dozen major cities, including San Francisco and Los Angeles. It's all pretty fabulous, as revealed in the episode that marked the expansion of a single show, SnowbizNow, into The SnowbizNow Entertainment Network.
LISTEN:
Listen to this eipsode on the BlogTalkRadio Network.
Download SnowbizNow podcasts for free from iTunes.
SnowbizNow can be found on Facebook at facebook.com/snowbiznow.
SUBSCRIBE TO & FOLLOW QUEER VOICES
We're spilling the tea on all the queer news that matters to you. Learn more