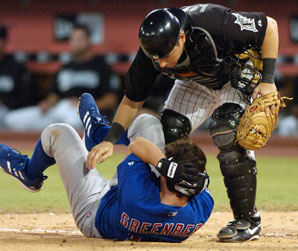 A cry goes out, "Is he still alive?" He lies in the fetal position in the beautifully groomed dirt. His hands clutched the back of his head. Familiar faces hover over him while his family looks on from a short distance. This was it! This was the culmination of Adam Greenberg's childhood dream. Adam was not dreaming, he was living his vision curled up in the batter's box of the Florida Marlin stadium. Adam was dressed in his finest Chicago Cub's dress blues and high blue socks. The number 17 was stitched on the back of his jersey right below his last name Greenberg. He had finally made it to the show.
Adam always excelled through life, a well liked kid who grew up in a small town in Connecticut. School and athletics came easy. He lettered in baseball, basketball and soccer. His accolades include Honor Society, All-State, All-New England, All-Area, All-Conference and All-American that went to play baseball at the UNC at Chapel Hill, North Carolina. He was the Tar Heels center-fielder from 1999-2002. The Chicago Cubs drafted him in his junior year in the 9th round of the Major League Draft.
It was now July 2005, and Adam had done what he'd set out to do, be a professional baseball player, but, there was one small problem...it wasn't supposed to be played out like this. He wasn't supposed to be whacked in the head with a 92 mph fastball. Cub's skipper Dusty Baker had sent Adam in to pinch hit seconds before. It was the top of the 9th inning and this was Adam's 1st Major League at-bat.
It seemed this was it for Adam. He never received another at-bat on the Major League Level. The severity of that pitch gave him a tiny stint with vertigo. After recovering, Adam found himself battling the minors again like he did as a young rookie. Since that day Adam has flirted with several ball clubs. The list of teams include: Dodgers, Royals, Bridgeport Bluefish (independent team), Angels, Reds, and now back with the Bluefish. When asked if "What if you don't make it back?" by ESPN Outside the Lines, Adam simply responded, "There is no don't." "What if?"... "There's none of that and I'm gonna get back. I've worked too hard in my life and career to have that be it for me." Adam will be turning 29 going into spring training this year. He still has his boyish looks and his lighting speed. The last couple of years having been trying times financially for some, a feeling all too well for Adam who's been scraping by on a meager allowance to play the game he loves. It's been five years since that plate appearance. The name Adam Greenberg and dates 2005-2005 can be found next to Hall of Famer Hank Greenberg 1930-1947 (no relation) in the Baseball Encyclopedia.
Adam has even managed to create a start-up company in 2009. At this time when many sit down to create their New Year's Resolution it is stories like Adam's that make us think about what this new resolve should look like. Perhaps it does not have to be about creating fresh goals and objectives, but instead taking the challenges life has given us, preserving and re-forming what may have otherwise seemed like a loss.

SUBSCRIBE TO & FOLLOW THE MORNING EMAIL
Start your workday the right way with the news that matters most. Learn more