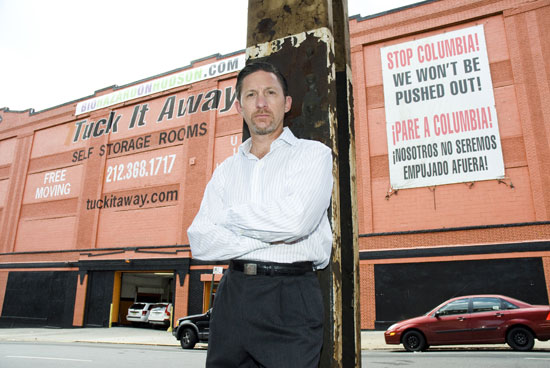 On Friday, the U.S. Supreme Court is scheduled to decide whether to accept my appeal and help me stop the theft of my family's property. Although you have undoubtedly never heard of me, my legal challenge has the potential to impact the lives of ordinary Americans more than most cases seeking U.S. Supreme Court consideration. After more than six years of fighting for what is rightfully mine, this is my last chance.
I am asking the court to take specific action and stop the taking through eminent domain of my property by an unelected agency of the state of New York merely to give it to a politically powerful private entity. If I am unsuccessful, the fate of my family business could be the fate of your home, your family business or any other property you and your family own.
In 2004 my American Dream started to turn into an American nightmare. Columbia University, an elite private institution, came to the conclusion that what it wanted -- a brand new monolithic campus in West Harlem -- could not be accomplished legally and legitimately through the open market. It therefore secretly went to, solicited and convinced that unelected agency, the Empire State Development Corporation (ESDC), to help it expand its facilities onto the very land where my business (and dozens more) stood. The method: the threatened use of eminent domain.
We then were forced to endure the attempted theft of the neighborhood in broad daylight by Columbia -- not even the state -- using the very public threat of eminent domain to purchase all the property they were unable to through the open market. Businesses that had been solid bedrocks of the area for decades were suddenly shuttered. Jobs were lost; vital services to our community were eliminated and families were thrown apart in bitter struggles over how to stop the Columbia steamroller. By the time the state finally got around to announcing that eminent domain would indeed be utilized in late 2008, its mere threat by Columbia was enough. Only my business and one other were left.
Incredibly, the rationale that the state used to condemn our properties was that the area was blighted. But this designation was fueled by the fact that once Columbia had purchased the vast majority of the land they systematically moved all occupants out and allowed the buildings to decay and deteriorate. Then, to ensure that they got the desired result -- an independent neighborhood study declaring the area blighted -- the state, in collusion with Columbia, hired Columbia's hired gun, who was already lobbying the state to invoke its condemnation powers, to perform the study.
At that point, I had no choice but to go to court. At first, we were successful. New York's Appellate Division invalidated the taking on the grounds that it (and the "blight" designation it was based on) was nothing more than a land-grab designed to advance Columbia's private interests. The court agreed with our contentions of improper pretext, collusion and bad faith. Unfortunately, the Court of Appeals (the state's highest court) reversed that decision, holding that the state's courts were not allowed to second-guess the government's decision to seize private property. The court effectively concluded that if the emperor said he was wearing clothes, then he was wearing clothes!
It is my belief that our highest court should take this case and show that the judiciary needs to protect the rights of all citizens against the tyranny that results from the collusion between executive and legislative branches of our government with favored private entities. It is exactly this responsibility that formed the basis of the checks and balances as laid out in our constitution. Nowadays, courts routinely abdicate their constitutionally mandated responsibilities and merely rubber stamp back-room deals made between our government and favored clients on the grounds that they must defer to decisions made by the other branches of our government.
As envisioned in our constitution, eminent domain is supposed to be for public uses -- projects the public will own and use -- such as a road or a post office. Eminent domain is not for private institutions like Columbia to expand their profit-making efforts beyond what the free market would allow. I believe that what Columbia has been trying to do is illegal, and I hope our highest court will agree. However, regardless of the outcome of my case, I know that what Columbia and New York have done to the people of West Harlem is unfair and un-American.
Nick Sprayregen is president of Tuck-It-Away Associates in West Harlem.
SUBSCRIBE AND FOLLOW
Get top stories and blog posts emailed to me each day. Newsletters may offer personalized content or advertisements.
Learn more