When I was young I spent a lot of my time thinking and worrying about what came next. I was always in a hurry -- pushing myself to get that next thing -- whether it was a bigger home, a pay increase or another child. I felt like I was supposed to push forward this invisible agenda in order to be seen as "accomplished."
I was obsessed with having the suburban American dream, which in my mind included a husband, a couple of kids, a house in a nice neighborhood, a minivan and a dog. And by 29-years-old, I had all of these things in spades. But, do you know what they don't tell you about this "dream?"
That the big house comes with a big mortgage and lots of bathrooms that need to be cleaned. That the more kids you have the harder it is to find time for yourself or for your marriage. That the dog will poop and pee and throw up all over the house (especially if you don't realize that raisins should be kept on the top shelf). That minivans breakdown and need to be cleaned almost as much as the damn bathrooms. And that nice neighborhoods are only nice if you have time to build relationships with neighbors.
Now that I'm 36, have four children, have been living in the same house for more than eight years, married for almost nine and on my second minivan and second dog, I can see clearly now that perhaps I allowed my obsession for the next thing control every decision I made. And frankly I wish I could tell my younger self to chill out.
Don't get me wrong, I love my children and my husband. I know I am blessed and I am grateful because I am living the life I wanted and chose for myself. I just don't know why I was in such a rush. Why did I spend my entire 20s so obsessed with the next thing? Why did I HAVE to check off all these "accomplishments" on my list so quickly?
Why didn't I just breathe more and enjoy each moment more? There are so many things I haven't done. Places not visited. Life moves so fast and I am almost 40. I hate that I will never be able to go back and just soak in each stage and perhaps take time to live for myself and not for the plans I created in my mind. I hate that sometimes moving my agenda forward was more important than simply living and being.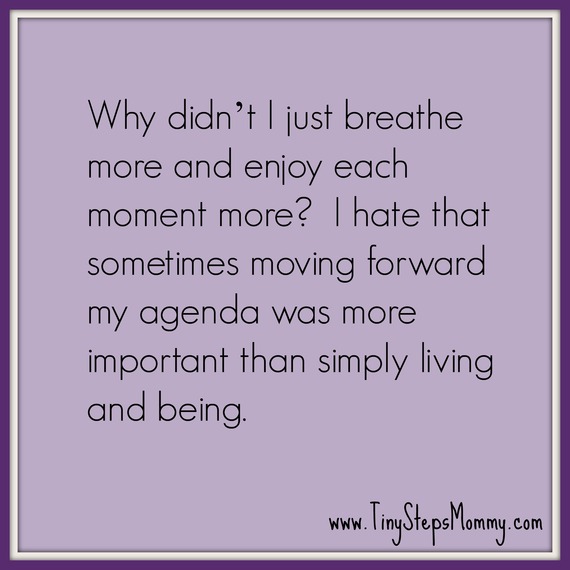 I especially hate that when I get upset I immediately start looking for a project -- a next thing. When my Dad passed away a month ago, I became obsessed with house hunting. I decided I wanted to move. I needed to find a new home with more land, but with less of a mortgage so I didn't have to work as hard. It was a coping mechanism.
I don't really want to move. I love my house and my neighborhood. I love my life, yet I started looking obsessively for the next thing. I checked out on many responsibilities at home because I was hurting and instead of just saying that out loud I tortured my husband with emails of homes for sale. We argued more than once because he couldn't understand this sudden need. I was hiding my feelings behind a new agenda.
The realization and acknowledgement that this is what I was doing now makes me wonder what was making me hurt back when I bought and sold two homes, got married and had my second child in less than two years before settling down in this house.
I suppose it was that failed first marriage and whole being a single parent thing, but who knows... I was too busy moving forward to really think about it.
Have you ever been guilty of looking for the next best thing as a way to distract yourself from your true feelings? Do you focus more on your "agenda" for life than you do actually being in the moment? I would love to hear from you.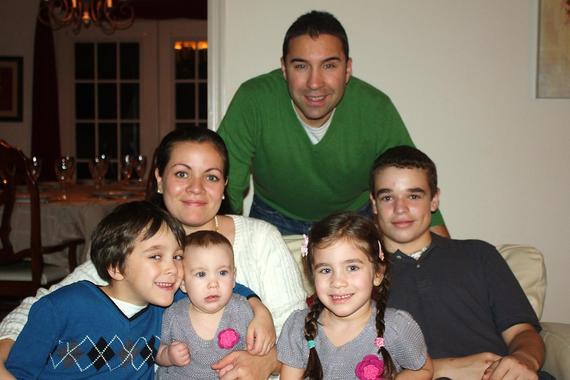 This originally appeared on Tiny Steps Mommy.
Nicole Dash is a writer, blogger and business owner who lives outside Washington DC with her husband and four children. Nicole writes about family, life, parenting and caring for children on her heartfelt blog Tiny Steps Mommy. Subscribe to Tiny Steps Mommy to get her latest posts delivered directly to you e-mail.