American artist Natalie Turturro unveils a whimsical collection of twenty small-scale works on paper in her first European solo show, "Pieces of Paris," now on view at Café des Initiés.
Installed in a wall arrangement evocative of a Renaissance map room, "Pieces of Paris" presents scenes captured in watercolor and ink from each of the city's twenty arrondissements, or districts. The individual artworks hang from the wall in correspondence with the location of their respective arrondissements relative to the Seine River, denoted in the installation by a curving blue satin ribbon.
In what she calls 'a new map of the city of lights,' Turturro offers street-view glimpses into the charming quarters often neglected in guidebooks, where we find the inhabitants engaged in delightful, if quotidian, activity. A father and son flee the falling rain hand-in-hand; a troupe of musicians regales passersby; a game of ping pong unfolds footsteps from an impressive monument; a lavender vendor tends his wares. This is Paris seen through the eyes of a dreamer.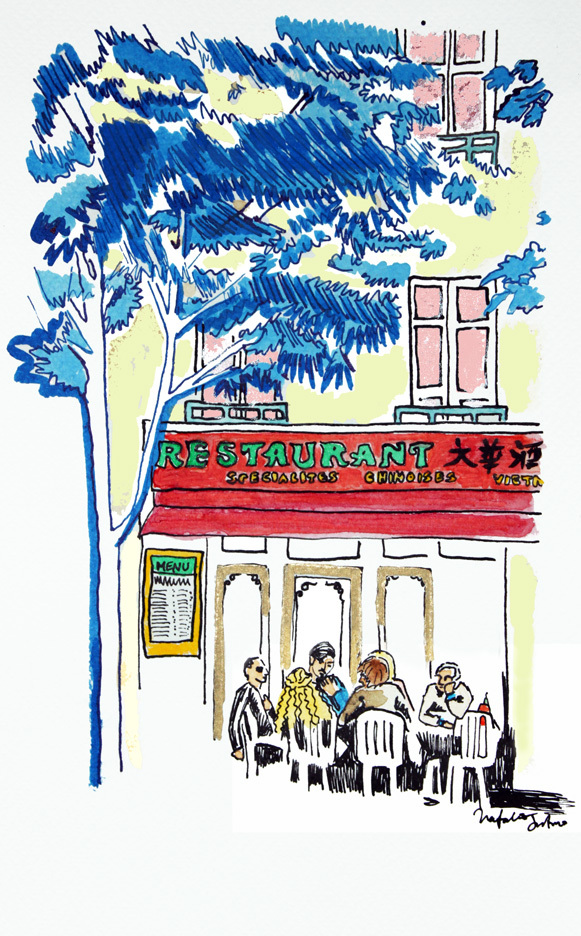 Scene from the 13th arrondissement. Courtesy of Natalie Turturro
The intense saturation of Turturro's sometimes supernatural colors and her restrained use of gold leaf and even gold glitter remove these moments from the banality of daily life and elevate them to the status of exalted souvenir, the French word for 'memory.' The scenes depicted are not in and of themselves the subjects of the series, but rather the vehicles for recalling the joy they inspired in the artist. Turturro has not depicted reality as she found it, but instead as how she would like to remember it; that is, in a dazzling state of beauty.
FOLLOW HUFFPOST