The Ingénue Interviews feature select artists and scene-makers from around the world, revealing their inspirations, cultural tastes, and dance party playlists. This week, Los Angeles-based artist Vanessa Prager talks travel, Mommie Dearest, and her penchant for weird yard sale art.
In addition to being an artist and sometime model for your sister, photographer Alex Prager, you are also an ambassador for Swedish clothing company We Are the Superlative Conspiracy (WeSC) and have recently collaborated with Whole Foods in the release of a limited edition screen print shirt to benefit the Whole Planet Foundation. What is a typical day like for you, from the moment you wake up?
Well, first I try to jog every morning, but I have to admit that doesn't always happen, especially around a show! Then I usually go straight into my studio. I don't even eat until hours later, just coffee early on. And yes, I work on a lot of different kinds of projects -- I've found I work best that way. I'll work on paintings and drawings mostly, but also sometimes a store window display or an installation to gather materials for and make. I have a short film idea I'm working on for later this year, and I am really excited about this shirt I'm releasing with Whole Foods. I love the store (who doesn't!) as well as the organization it supports, Whole Planet Foundation. I am also about to come out with some other limited-edition artwork shirts with my drawings, so this will be the first!
On June 2nd your latest paintings and drawings make their début alongside this first T-shirt at Across the Universe, a one-night-only exhibition hosted by Danny Masterson. What music was in rotation as you worked on these pieces? What is your preferred listening method?
At this point I've listened to everything on my iPod a million times over. I put it on shuffle of about six thousand songs. The rate that time moves while I'm working is really bizarre, so before I know it I'll have listened to an album six times through without meaning to. So shuffle works best. A few in there are The Black Keys, Radiohead, Julian Casablancas, Dr. Dog, Beck, Modest Mouse, Midlake, Steel Train.
You've recently designed store window displays for both WeSC and American Rag. What inspires your three dimensional work?
Nature, electronics, toys, color... I tend to use a lot of child-like items or build things using clay, yarn, paper-mache, cloth, and a lot of fishing line. I love how I get to just get in there with the 3D stuff and build things with my hands, totally the opposite of painting and drawing. But I'll also include those elements in it by making murals for backgrounds or building TV's with my drawings in them.
Do you have a favorite gallery or museum in Los Angeles?
Not really. I like wandering from here to there depending where a good-looking show is up. I do like going to the Getty a lot, as it feels totally removed from L.A., but with such a California vibe at the same time, right in the heart of the city. When I first started painting I decided not to visit too many galleries and shows. I wanted to really get my own style down and not be super influenced by everything I saw. It's not that way anymore!

Many of your paintings and drawings have a cinematic feel. What's your favorite film of all time?
Favorite of all time?? That is so hard. I really like Mommie Dearest. I just love how crazy she is. I also have a special place in my heart for What About Bob?. Oh, yes. It holds a sentimental value for me with my family, too. I remember us all liking that one, which is so rare.
Outside your home, where do you spend your time in Los Angeles?
Hiking in Griffith Park, biking along the L.A. River, eating at Flore, yard sale-ing on the weekends, dog parks... L.A. has the best outdoor options!
Do you collect anything?
Well, I collect weird yard sale art. I would collect other art but can't afford to yet. [Laughs] I collect vintage frames, because I like to use those to frame my work. Other than that, the things I gather are things I could imagine using in an art project, if they look interesting and seem useful to me. I collect books, though. We have thousands. I definitely haven't read them all, but I can't help but take them home!
What books have you loved?
Really random classics always caught my attention. The Agony and the Ecstasy, The Scarlet Letter, The Adventures of Huckleberry Finn, The Canterbury Tales, The Odyssey. In high school, I loved reading about things that we deal with now, but that they were writing about back in the 16-, 17- and 1800's, you know? Newer books, too - Lolita, On the Road, Catch 22, Middlesex... David Sedaris. My favorite type of book is historical fiction, by far.
Do you have a favorite bookstore? Or do you find your books somewhere else?
I find them everywhere! Skylight Books is great. It's local and it's always been close to me. Book Soup is a little farther in L.A. but totally amazing. And then yard sales, people getting rid of them, and Amazon. Thrift stores, too! People leave awesome books there.
There is something about discovering a book... So, you're not into reading e-books?
No, not at all. I'm not saying I definitely wouldn't ever be, but you're right, it is something about discovering it. And actually, now that I'm talking about it, I'm realizing I really do collect books in the fullest sense.
With 6,000 songs, it seems you have an extensive music collection, too. What songs would have to be included in your ideal dance party playlist?
Oi, I'm terrible at putting together dance mixes! I know who I'd like to be in there, but I can never find the right song names. Passion Pit, Radiohead, Spoon, The Smiths, Phoenix, La Roux, Sleigh Bells, The Shins, Ruby Suns. I like dancing to a mix of indie rock -- or whatever that genre is -- with electronic stuff mixed in. Mark Ronson is good at that. And I like rap, too. Kanye, Eminem and Jay-Z a lot!
What has been your most treasured discovery while traveling?
I absolutely love traveling. It's one of my favorite things. I've been to a decent number of places... road trips, backpacking in Europe, London, Tokyo... I'll take it all. I want to visit Russia! There is so much to see in the world, so much to do, discover, find. It's endless, really. But then I'll run into a friend in a tiny town halfway across the world and am reminded that it really is a small world after all. And I love that!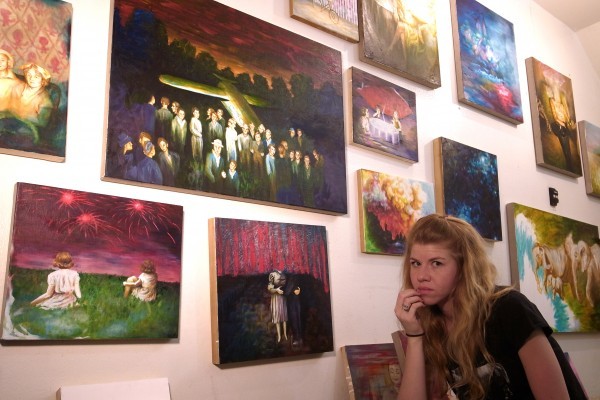 Photograph courtesy of Vanessa Prager.
Vanessa Prager lives in the Silver Lake neighborhood of Los Angeles. Her work has been featured in the pages of NYLON, Flaunt, Curvy, and Tank, among others, as well as in the store windows of WeSC and American Rag. www.vprager.com
Across the Universe hosted by Danny Masterson
ADBD Gallery
8246 Beverly Blvd., L.A. 90048
Thursday, June 2 only
7-10PM
rsvp@vprager.com