Forward Operating Base Delhi, Garmsir District, Helmand Province, Afghanistan--December 7

Kinetic summer

We're in the Snake's Head, the name given by the U.S. and British soldiers to a bulbous patchwork of canals in the Helmand desert in Southern Afghanistan, part of a ribbon of fertile land running south from the Malmand Mountains and commanded by the irrigation network built with U.S. assistance in the 1960s. The Helmand River valley is at the frontline of the current episode in Afghanistan's Thirty-Year War.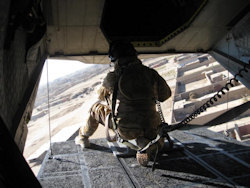 Flying into Snake's Head the name given by the US and British soldiers to a patchwork of canals in Helmand province, Southern Afghanistan. Photos © Ed Girardet.
Field Marshall Gerald Templer said of the 1952-4 conflict in Malaya, "The answer lies not in pouring more troops into the jungle, but in the hearts and minds of the people." This philosophy animates the counterinsurgency strategy for Afghanistan set out in General Stanley McChrystal's Initial Assessment. McChrystal is quoted as saying that "the shot you don't fire is more important than the one you do."
British forces have fought in this area since 2006. In July this year, in the biggest airlift operation since the Vietnam War, the 2nd Marine Expeditionary Force joined them and drove the Taliban further down the snake's tail.
To read the full post click here.
This post originally appeared on the World Development Report 2011 blog on January 5, 2010.