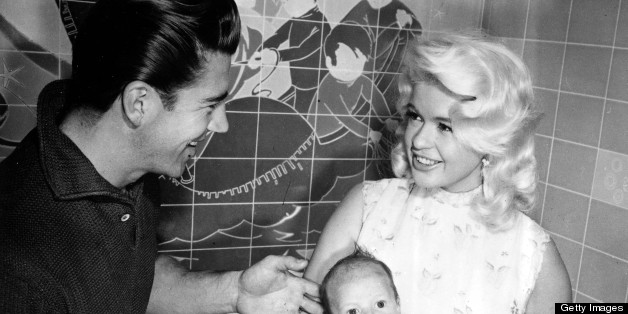 In All the Chaos on Friday in Boston, we didn't have a chance to acknowledge an icon's 80th birthday, Jayne Mansfield, one of the last blonde bombshells after Marilyn Monroe and Mamie van Doren. Although Jayne passed away in 1967, she is still recognized for not only her films and fashion but for her daughter, Mariska Hargitay who stars in Law and Order Special Victims unit.
Jayne Mansfield is best known for her curvaceous body, her whisper and ability to gather attention, although her image was known for being a dumb blonde, she was far from it, easily able to speak several different languages, she also had musical talent and was a member of MENSA, making her well rounded before the age of 20. Everything Jayne did in her life was extravagant and outrageous but she did it with a passion.
Most know Jayne Mansfield from her movie career including Will Success Spoil Rock Hunter?, Bus Stop and The Girl Can't Help It, as well her extensive theater background. Jayne was considered the first Broadway to Hollywood success stories but what she is most recognized for is being the first woman to ever pose for Playboy a record 30 times. Golden Globe nominee before the age of 30, she had a career up and coming actresses could only dream of.
Although her film career was limited, Jayne had one of the early successful nightclub acts for a woman, traveling all over the country with a burlesque act, often referred to as a satire and was considered a predecessor to Gypsy Rose Lee. Unfortunately it was coming home from her last performance, her car smashed into the back of a tractor trailer, killing the driver, Jayne's husband at the time. Mariska and her brothers were in the backseat, but survived.
Jayne Mansfield lived more in her 34 years of life than most do in 50 years, her highs and lows were consistent with the turbulent 1950s and 60s, although she was considered "the poor man's Marilyn" She managed to have for just a moment, a successful career, husband Mickey Hargitay and four children, something Marilyn never got to do. Except when the moment ended and Jayne grew restless, she moved onto a new phase of her career and a new husband, also giving birth to her fifth child.
Jayne Mansfield's death catapulted her into legendary status. There is the story about her getting future husband Mickey Hargitay fired from the Mae West show, staging a fake drowning at a hotel pool in front of photographers and having her bathing suit pop off, or having a meeting with the Beatles and being insulted by John Lennon.
If Jayne Mansfield had lived, she might have restarted her movie career or maybe segued into television or she might have stepped away from the industry all together just to raise her kids, although maybe if she had lived, Mariska Hargitay might not have gone into acting and we wouldn't know her as the best ass kicker on network television.
I think it's so amazing that both Mariska's son was born on June 28th 2006 and Jayne Mansfield died on the night of June 29th 1967, nearly 39 years apart. Almost like it was predestined.
Jayne Mansfield has become a pop culture icon throughout the past few years. Fergie imitated her in the "Clumsy" music video. Several books have been written about her as well as an upcoming movie written by her fan club President.
From a small town girl to a legend, Jayne Mansfield became an an inspiration to girls everywhere who want to make it out of the suburbs and into the bright Hollywood lights
What was your favorite Jayne Mansfield movie? Or your favorite story about Jayne?
SUBSCRIBE AND FOLLOW
Get top stories and blog posts emailed to me each day. Newsletters may offer personalized content or advertisements.
Learn more