THE BLOG
Fighting the Fight to Win Olympic Gold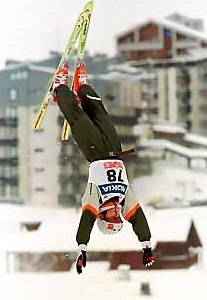 For all those fighting the good fight, let me share my story of overcoming one of the greatest adversities I've ever endured: coming back from a spinal injury that very nearly ended my skiing career. Less than two years after this challenging injury, I went on to win America's first gold medal in the sport...
Overcoming Adversities
I quickly learned that you can have all the focus and commitment in the world, but your hard shell isn't really complete if you don't have the ability to overcome adversities. And I ran head-on into that adversity in 1996, two years before my second Winter Olympic Games.
As the '95-'96 season progressed, I found I could almost re-create those same stellar results I had experienced just the year before, but I wasn't always the one standing on the top of the podium. Three-quarters of the way through the year, the coveted yellow jersey bib always worn by the athlete leading the World Cup tour belonged to a woman named Veronica Brenner, from Canada.
In February 1996, at a contest in Oberjoch, Germany, Veronica didn't qualify for finals. Being so close to her in the standings, I hoped this was my chance to pull ahead of her and regain the first-place ranking.
But as the year progressed, I was experiencing some pain in my lower back from a muscle spasm that just wasn't going away. I woke up the day of finals in Oberjoch and went up to my coach, Wayne Hilterbrand, and told him the muscle spasm had returned and my back was hurting quite a bit. He told me we only needed to do four jumps: two training ones and two for the contest. I agreed that I could get through them.
I went to the start of the inrun and got ready to go. I skied down the hill and up the kicker, but as I reached the top, I felt a shooting pain in my lower back as if I had just been stabbed by a knife. Though I finished my jump maneuver, I felt another searing pain upon impact.
I managed to ski away, but collapsed when I reached the bottom of the hill. I found that I couldn't bend forward in order to stand up. Our team physical therapist, Kim Nelson, rushed over to see what was wrong.
"The muscle spasm has probably flared up," he told me. "Give it a little time to see if it calms down."
Thirty minutes went by before I knew it, and Kim was back in front of me. "There's just five minutes left of training. What do you want to do?"
I looked him straight in the eye and replied, "I want to jump."
Kim literally had to brace his hands behind my back and lift me to my feet, since I couldn't bend forward without pain shooting through my body. I somehow made my way back to the top of the hill and got ready for my second required practice jump. With tears streaming down my face, and feeling anything but sure about what I was doing, I headed down the hill with an unsure feeling in the pit of my stomach.
This time, as I hit the apex of the kicker, it felt as if I had ten knives slicing into my spine. It was the sort of pain that typically drops people to their knees...and I was thirty feet up in the air, upside down. Somehow, when your life is in jeopardy, your body goes on autopilot. Pushing through the insurmountable pain, I managed two flips, then felt my feet hit the snow. The surge was excruciating and my back couldn't withstand the force. I collapsed on impact and slid to the bottom of the hill.
As I struggled to get up, I found that not only could I not bend forward. I couldn't move more than an inch in any direction. Tears now soaked my entire face and my sobbing only intensified the pain. There was nothing I could do but wait for the ski patrol to cart me off the slopes.
Because there were no good hospitals close by, the ambulance took me back to my hotel. Even my plush German bed and fluffy down duvet were no comfort. I was holed up in my hotel room for three full days because I couldn't stand long enough to get on a plane to fly back to the U.S. When I finally did head home, I had to make sure I found a flight with an empty row of seats so, I could make the trip lying down.
Once I got home, I began a tour of top spinal specialists. I went from MRIs to bone scans, radiologists' offices to orthopedics' offices, physical therapists to acupuncturists. Each stop seemed more depressing than the last. All the doctors seemed to agree that my injury was not a muscle spasm, but something called Internal Disc Disruption, caused over time by continual compression from hard landings. They explained the injury by telling me to imagine shaking up an egg until the contents became scrambled. The shell would generally remain intact except for several cracks that would leak fluids. This is basically what I did to two different discs in my spine.
The doctors also told me that once a disc was malformed, it would never go back to its original state. Without intrusive intervention, it was an injury I would have for life. Unfortunately, "intrusive intervention" meant fusing the two discs together. If I did this, I wouldn't be able to bend my lower back...which also meant no more aerials.
The alternative was to just deal with the pain. But since sitting for thirty minutes and standing for fifteen was the most I could bear, I could not foresee how I would soon be getting back to a sport that launches athletes fifty feet in the air.
Despite the grim prognosis, I tried every exercise and procedure possible. I did stabilization exercises, spent endless hours stretching my spine out in some medieval torture contraption, bobbed around in a therapy pool with twenty-five other patients three times my age, submerged my back daily in a freezing ice water bath, took fistfuls of anti-inflammatory and pain-relieving drugs, and had a six-inch needle plunged into my spine on three different occasions.
But the worst had to be when one doctor decided it might be beneficial to burn the nerves in my back so that I wouldn't feel the pain anymore. That I actually went through with the initial procedure to numb the nerves, to see if it would work, was proof that I would have done anything to take away the pain.
Doctor upon doctor upon doctor told me, "Nikki, you are going to have to face it, you likely won't ever ski again, never mind jump." It was after receiving this same message in my tenth doctor's office that I finally broke down. I had tried to remain tough and optimistic until then, but had finally reached my breaking point. I was sick of the doctors telling me a comeback wasn't possible, sick of family and friends telling me to think of the "positives," sick of constantly being in pain. I was sick of everything!
So there in that doctor's office, the floodgates opened and I couldn't stop the tears. I kept thinking of the little girl who'd pledged to her parents that she was going to win the Olympics someday. And now I was being told I couldn't even give that dream another try.
When the waterworks didn't subside, the doctor nervously looked around for his pad and scribbled out two prescriptions. The first was for visits to a sports psychologist, and the second was for a mild antidepressant. Despite the endless tears, I had a hard time admitting I was depressed. But it seemed so obvious to those on the outside--and to me, some years later.
As the months progressed, none of the pain subsided. In fact, despite numerous doctors' visits and countless exercises and procedures, the only thing I was losing was hope. After months of lying on a mattress in my living room, I started to doubt if I would ever come back from this injury. In addition to my physical and mental state, my relationships were starting to crumble. I was snapping at my parents, my friends stopped coming by, and my boyfriend and I were constantly fighting. No one wanted to be around a depressed individual.
The truth was, no one was going to pry me out of my depression until I somehow faced it myself.
The man who forced me to face it was someone I didn't know, and who didn't know me...
...(to be continued next week)
Excerpt from When Turtles Fly: Secrets of Successful People Who Know How to Stick Their Necks Out
Motivational Weight Management Tip
My experience of working with the Biggest Loser contestants and Symtrimics has inspired me to leave motivational diet, health, and wellness tips at the end of all of my blogs. These tools are driven from the actual advice shared in my weekly motivational Transformation Talks. This week's tip: Most people want to give up when they "fall off the wagon". And most of us have fallen prey to this in the past. You have to choose to mount that wagon again right away. Don't let a small lapse in your diet or exercise regiment cause you to completely through in the towel. Successful people aren't those that don't make mistakes, they are those that don't give up once they make mistakes.