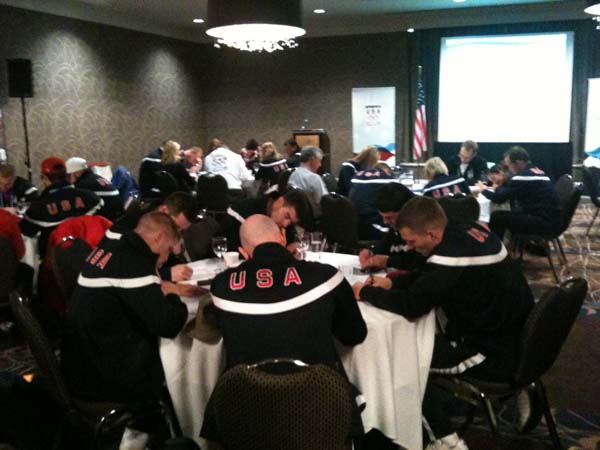 Here at these Olympic Games in Vancouver, Canada, I was honored -- and challenged -- by the United States Olympic Committee to help motivate the Olympians to outperform their competitors. I was joined by Olympic champions Bonnie Blair (6-time Olympic speedskating medalist), Dan O'Brien (Decathlon gold medalist), Picabo Street (Alpine skiing gold and silver medalist) and Vonetta Flowers (Bobsledding gold medalist). Not bad company to be in.
Throughout these Olympic Ambassador Programs, we wanted to impart our knowledge of overcoming obstacles and distractions, dealing with intense pressure, and building confidence as the athletes went off to their respected venues. To make sure they were thinking confidently before the Games, we had them write down their goals, positive words that will help redirect their focus, and the legacy they want to leave behind as an Olympian.
It was truly inspiring to work with all the athletes as they arrived in Vancouver, and then see them go out and live up to those legacies, despite the anxiety at the games. It is incredibly hard to go from a hundred people closely following you to a hundred million people closely following you...virtually overnight. The pressure can take down even the most seasoned athletes. Those left standing at the end are the ones with the most mental toughness.
How proud I've been of these American athletes, regardless of what happens throughout the final few days. They came to these Olympics with a mission.
I feel the pounding in their hearts as they stand in the starting gate. And I know the expressions on their faces as they finish their runs, routines or games. It takes a lifetime of work and a boatload of heart. Mission accomplished.
Medals and personal bests are continuing to rush in daily. Veterans inspiring rookies and rookies revitalizing veterans. One American feeds off the last. There is an intense power in seeing your compatriot win an Olympic medal, knowing you've trained with the same mental and physical intensity.
One of my favorite days of the Games so far had to be the day of the women's downhill and men's snowboard halfpipe. Having both Lindsey Vonn and Shaun White as contributors for my book, When Turtles Fly, I knew the personal side of their stories this time, so it made their gold medal performance that much more moving and inspiring. After hearing their stories, I knew that Lindsey had the mindset to break past the obstacles that plagued her and Shaun could continue his confident domination.
With Lindsey and Shaun, and with many others, I recognize the familiar look of both exhilaration and relief as their runs come to an end. Four years is a long time to have to wait for another shot at an Olympic medal. And those left to still compete are eagerly waiting to share those same emotions.
I know the most nerve-wracking event for me to watch will be aerial skiing. I have so many friends and old teammates competing and I really want to see them all perform to their potential. Even after twelve years since my gold medal win, I still feel the intense pressure when I arrive at the venue. To be honest, I feel downright sick to my stomach. In many ways, I think it's harder to be a spectator because after they leave our Olympic Ambassador Programs, we have no control over how anyone performs. I just have to have faith that they have that mental toughness and can feed off the success of their fellow American Olympians.
As we closed our session with the athletes, we told them, "One athlete will win every one of the Olympic events. Why not make it you?" Apparently, they've agreed!

FOLLOW HUFFPOST