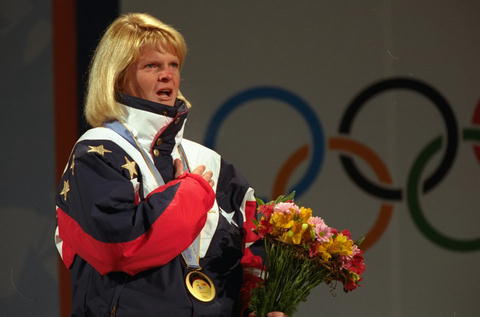 As you read my blogs, keep in mind that these stories, anecdotes and tools are all based around my philosophy for success: THE TURTLE EFFECT (Highlighted in the new book When Turtles Fly: Secrets of Successful People Who Know How to Stick Their Necks Out--that was featured on the Today Show on February 7th). The Turtle Effect was taught to me by my mother when I was a young girl. She told me that I could achieve anything I wanted to as long as I remembered to have a soft inside, a hard shell, and be sure to stick my neck out. I hope this personal story will inspire you on that path to make sure you're "sticking your neck out" in order to reach your goals....
As soon as the reality that I had actually just won an Olympic gold medal hit, I knew I had to find my soon-to-be-husband, Michael, and my parents. Most people wouldn't understand the sheer joy I was experiencing, but there were three people who I knew would feel the same way I did at that moment. I ran over to where the media had ushered my family. I spotted my parents by the American flags they were waving. I fell into their arms and we all broke down in tears.
The other medal winners and I were given a few hours to shower, dress in our podium uniforms and make our way from the ski resort to downtown Nagano, the site of the medal ceremony. Within forty-five minutes of arriving, the three women's and three men's aerial skiing medalists were escorted to a giant arena where a thousand screaming fans were waiting. Somewhere in the throngs of spectators were Michael and my parents.
We were told to wait for the music and then follow a beautiful little Japanese girl across a long platform to a stage at the front of the arena. I was amazed to hear hundreds of strangers calling out my name. Was this all really happening?
We were placed in front of an enormous podium in the center of the stage, Switzerland's Colette Brand to my left and China's Nannan Xu on my right. They announced the gold medalist first. Over the loudspeaker came the best words I had ever heard uttered: "Congratulations to Olympic gold medalist Nikki Stone." I had waited so long to hear those words!
I bounded onto the top step and threw my arms over my head to the sound of cheering spectators. I dropped my head back and closed my eyes to take it all in. When I opened them again, a woman was holding up a pillow with the most precious-looking medal resting in the center. I slowly bowed my head as a tall, gray-haired gentleman placed the medal around my neck. Chills ran up and down my spine as I wrapped my fingers around my Olympic gold medal. I leaned forward and pressed my lips against the cold metal. I wanted to take in every ounce of it.
Both Nannan and Colette were awarded their medals, and I recognized the same look of pride cross their faces. Just when I thought I couldn't handle any more emotion, I glanced across the stage and noticed three poles off in the distance. On the middle one, officials were raising a red-white-and-blue flag. Even folded, I could tell it was the American flag, my flag. Almost simultaneously, the arena filled with the opening notes of the "Star Spangled Banner." This win was for me and for the United States.
A lot of people asked me if I would be happy finishing second or third. And I really would be happy just knowing that I had done my best. But when you win the silver or bronze, you don't get to hear your national anthem. As the U.S. anthem started to play, I couldn't hold back the tears that welled up in my eyes.
I thought back to that little pigtailed, freckle-faced girl who had made her own "Olympic podium" twenty-two years earlier. I realized that this moment represented the fruition of those dreams. This was what the hard work was for. This was what the pain was for. This was what the agony, the tears, the dedication and the sacrifice were all about. It was all for this moment, on the podium, listening to my country's anthem.
I kept shaking my head because I couldn't believe this was all happening to me.
I had recurring dreams about those Olympic finals for the next two weeks. Every night in my dream, someone would tell me, "You know what? It didn't really count. We need to do it all over again." And every night I would reply, "I knew it was too good to be true." Then I would wake up the next morning, shove my hand under my pillow and find my Olympic gold medal. And I knew it was mine, for life.
Well, I do still have that medal in my possession, and I'm the one who stood atop that Olympic podium. But it was listening to the American anthem that reminded me no one gets to the top alone. Our anthem represented all the people who worked to make our country strong, and my medal represented all the people who worked to make me strong. It was a team effort.
I needed the sponsors who made it possible for me to put my time into my training. I needed the medical staff who helped me recover from my injury. I needed the people who put banners around my hometown of Westborough, Massachusetts, to remind me there were folks rooting me on back home. I needed the letters from schoolkids around the U.S. to emphasize that I was a role model to others. I needed my friends, who promised they would be up watching me compete at 3:00 a.m., if need be, to cheer me on to victory. I needed my coaches, who learned who I was and what I required as an individual. I needed my competitors, who always pushed me to understand my true limits. I needed my teammates, who demonstrated loyalty by coming out on the day of finals to support me, even though they were depressed after just missing qualifying for finals themselves. And I needed the strangers that I met on planes, trains, shuttle buses and park benches, reminding me that I represented something much bigger than myself.
Possibly, more than anyone else, I needed my family. This wasn't just about my sacrifice, it was about theirs as well. I did a sport that was not only terrifying to watch in normal circumstances, it could have proved disastrous to someone with a spinal injury. But my sister, grandparents, aunts, uncles and cousins never let their concern dominate. They all just encouraged me to pursue my dreams. I think they knew me well enough to understand that I really wouldn't have had it any other way.
No one understood my dedication as much as my future husband and my parents. I knew I would marry Michael someday--knew it the moment he told me he had just been fired from his job because he had left work to come to Japan to support me at the Olympic Games. I think he had more confidence in my abilities than I did. Even before we left he told me that he had to come or he would forever regret missing my winning performance.
Two other people who weren't going to miss that day were my mom and dad. I now have a daughter of my own, and understand how that moment at the games was likely more moving for them than it actually was for me. I later saw that the interview they did with TNT was more emotional than my own. My father became choked up talking about how he couldn't wait to see the American flag being raised...for me. And my mother barely got four words out before she dashed off to come find me.
I now find it funny that they call anything an "individual sport." Such an activity doesn't exist. It is unfortunate that it took me twenty-two years to realize that standing on a podium, or pulpit, or mountain, or stage, is not about that last exalted step, but about the journey to get there, and those who helped make it possible.
I often think that life is like that Olympic podium. We get caught up trying to clamber to the top, and forget to appreciate all those people giving us a boost up. It's all those individuals giving us a hand that inspire us to stick our necks out. I now know how important it is to make sure these people get a boost in return. When we work together, no podium is out of reach.
Remember, you can help more Olympians experience this moment by helping support their dreams. Support Team USA and earn cash back at hundreds of online retailers when you shop and register at register at www.myteamusarewards.com.
SUBSCRIBE TO & FOLLOW THE MORNING EMAIL
The Morning Email helps you start your workday with everything you need to know: breaking news, entertainment and a dash of fun. Learn more