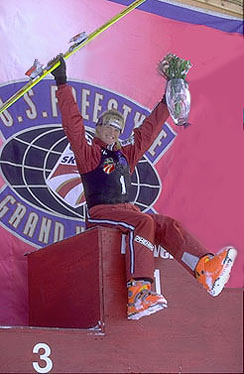 As you read my blogs, keep in mind that these stories, anecdotes and tools are all based around my philosophy for success: THE TURTLE EFFECT (Highlighted in the new book When Turtles Fly: Secrets of Successful People Who Know How to Stick Their Necks Out). The Turtle Effect was taught to me by my mother when I was a young girl. She told me that I could achieve anything I wanted to as long as I remembered to have a soft inside, a hard shell, and be sure to stick my neck out. I hope this personal story and tool will inspire you on that path to find your "hard shell" in order to reach your goals....
To be successful, you need to...
Have a hard shell... Make Sure You Are Committed
Put it in writing
Nikki's Perspective: When I made the World Cup team, one of our first responsibilities was to write down our goals. I wrote that my goal was to win a World Cup competition that year. A teammate of mine sneered at me and said that no one wins a World Cup in their first year on the tour. She told me I should pick a more "reasonable" goal, like hers--of reaching one top-ten result, one result better than tenth place.
I left my goal as it was. I took it as a personal challenge, and to keep myself on track, I pinned the goal up next to my bed at every hotel we traveled to.
Toward the end of that first year, we competed at a contest in Inawashiro, Japan, and my teammate finally reached her goal of a top-ten result. But what I think surprised her most was the outcome of my own commitment. I also reached my goal that day, and won my first World Cup competition.
Your Tools for Success: Today, either give yourself a challenge or challenge a colleague, teammate or friend to decide on a certain goal with you. Write the challenge down on an index card and tape it to the wall to remind yourself of your goal. This commitment will make you accountable to your goals and responsible for your actions. Read your index card and/or check in with your friend weekly to keep yourself on track. If you aren't willing to put a goal in writing, you probably aren't really committed to achieving it.