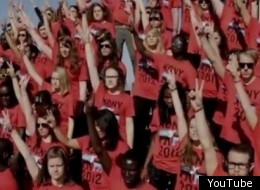 Earlier this week, a 30 minute documentary film called "Kony 2012" took the internet by storm. Within hours, it was trending on Twitter and all over Facebook. The film is part of a social media humanitarian campaign initiated by Invisible Children, a nonprofit organization. The campaign's premise is to utilize social media to spread awareness about Joseph Kony, a central African warlord and his atrocious crimes against humanity. The goal is to capture Kony by the end of 2012.
As of Friday night, the video had been viewed 60 million times on YouTube, and 15 million times on Vimeo. Much of the success of the campaign is owed to teens and young adults all over the world, who have been instrumental in spreading awareness about Kony through social media outlets. According to data collected by YouTube, the video is most popular among teenage girls ages 13 to 17, young men ages 18 to 24, and teenage boys ages 13 to 17. Teens in my area have already organized Facebook events for the community to participate in the campaign, with over 4000 guests planning to attend.
Since teens are the backbone of this movement, I thought it would be interesting to see what teens at my school really think about the campaign. So, I surveyed various students at Beverly Hills High School, and here's what they have to say about the Kony campaign.
My questions for you: Do you agree with them? What do you think about the Kony campaign?
I think that this Kony phenomenon can be quite the game changer. This movement can either prove to be successful and or die out like others that have happened. I do believe that if it does indeed work that this can show that if a hoi polloi of people come together from everywhere we can change anything and everything. This is truly the best way to use social networking and it is most definitely making a statement.

I think its great that the video has touched the hearts of so many already and it's making everyone want to get involved and spread awareness. Most kids in our school don't usually prioritize important things like this, so it's really great that they now want to be involved in something that has a positive impact on the world. That being said, I think that people are being naive and they are just eating up the words in the video. Everyone watches the video and cries, and due to this spur of emotions they decide they want to get involved. No one has even bothered to do any research on this whole thing, like why the LRA is in Uganda to begin with. No one has even bothered to see how this is almost like propaganda. I'm glad so many people are trying to make such a huge difference, but I think that if they want to get involved they should do more research first.

Watching the Kony video really opened up my eyes. The video made me realize how thankful I am for not only everything that I have been blessed with in my life, but how fortunate I am to have been born in a country like the United States. The Kony video really inspired me to reach out in any way possible to help those who are in need. Equality is something that I truly value as an American citizen, and the children of Uganda deserve that right.

Ok well I start with saying that I actually am a supporter of raising awareness and helping solve this very serious problem in Uganda, but I am not a rave supporter of this "KONY 2012" effort that has struck Facebook. This is becoming an epidemic. Although this is a very serious issue, there are also other matters in the world that also deserve as much or even more attention than Kony. I'd like to add that Invisible children is combating Kony with military intervention. I think military intervention is not the right way to end this problem, if anything it is perhaps the worst way. AFRICOM has already made many attempts to find and murder Kony but it's not easy. After their attempts, Kony responded with killing and enslaving even more children. If Kony was this easy to stop, it would have been already done. I just feel like people aren't supporting the right cause here.

I think everyone should get involved with the Kony campaign. What this massacring man is doing is revolting and he needs to be stopped. We need to make moves and end his rampage. I'm only sixteen and I know I can make a difference just like every person in the world by bringing attention to Joseph Kony's horrible crimes. We need to raise awareness for these kids and this campaign is how we can.