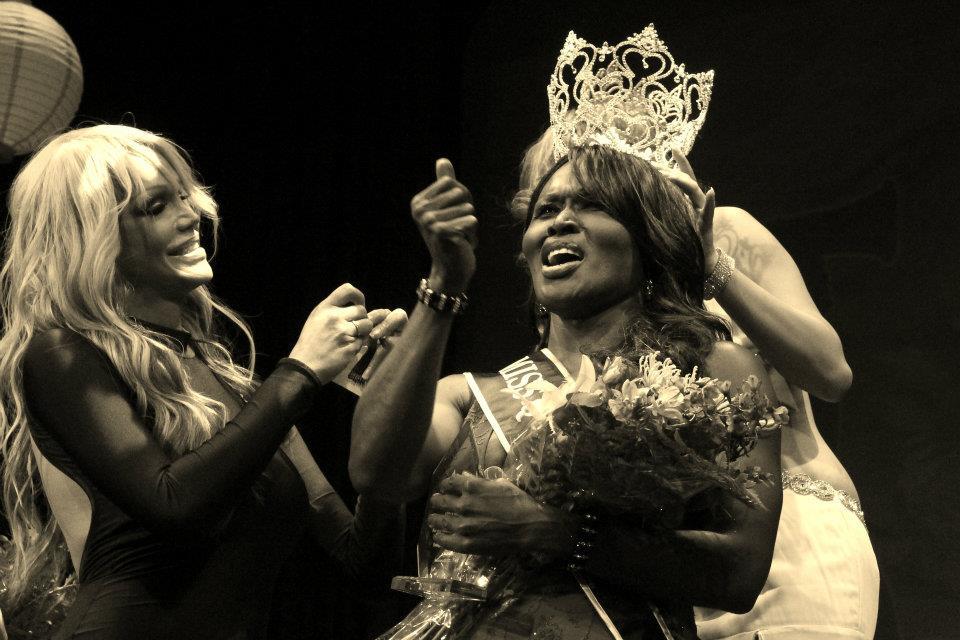 Maria Roman congratulates Quest winner Octavia Hamlett (photo by Susan Forrest)
On Dec. 10, Octavia Hamlett won APAIT Health Center's Quest: Woman of the Year, a transgender pageant that emphasizes community advocacy and leadership. After winning the pageant in Little Tokyo, Octavia left the theater wearing the dress she received as a gift for the evening gown competition. She kicked off her heels for more comfortable shoes, threw on a coat, and with the crown teetering on her head, she walked two blocks south to the Union Mission, a transitional housing facility, in the heart of Skid Row.
For Octavia, entering a beauty pageant was not on her list of priorities. However, Maria Roman, one of the pageant coordinators, repeatedly encouraged her to apply.
Octavia said, "Maria kept asking me and asking me to fill out an application, but I kept saying no." However, Hamlett, a devout Christian, gave in. "Maria asked me again. Then I realized that God speaks through other people. I wondered if this was something I was supposed to do."
Octavia was born and raised in Atlantic City, a city known for its gaming industry. She knew that Atlantic City was not for her, and she had "a feeling" that she needed to leave. She moved to another town also known for its casinos, Las Vegas. There, she began to transition to womanhood. "My aunts, uncles, cousins were very supportive of me," she said. "My mother and I have a good relationship... over the phone."
The casino where she worked was supportive of her transition, but her co-workers were not. "I was eating with a friend, when all these men in Engineering began circling me," she said. Dealing with the pressure at work and the new emotions that come with hormone treatment, Octavia ended up losing her job. She fell into sex work as a means to survive.
"I didn't stay in it long," she said. "I just didn't like it. I couldn't believe how badly I was treated. It enraged me how men can treat women. I really saw how women can be treated poorly."
She decided to move to Los Angeles, where she knew that there were better services for lesbian, gay, bisexual, and transgender people. She slept on a friend's couch for a week but didn't want to overstay her welcome. She looked into other ways of supporting herself, which included moving into a shelter. She went to the Union Mission. She saw it as a good sign that the faith-based Union Mission was a Christian organization.
"The Union Mission treated me with absolute respect. It was a shockingly great experience. The staff was really accommodating."
She started attending trans support groups, where she met Maria Roman, the Quest Pageant Candidate Coordinator. Maria gave her the dress for the evening gown competition. A fellow candidate, Yuni Cary, took Octavia to a salon to prepare for the pageant. Yuni placed first runner-up.
When asked how she would react to others, particularly fellow Christians who may disagree with how she leads her life, Octavia responds, "I am not part of the debating society. Trying to change people's minds is not my goal. It's a waste of time and energy. I'd rather take that energy to help someone in need."
She didn't know what to expect when she entered the Quest Pageant. Quest is not like other pageants. It is sponsored through the APAIT Health Center, and each delegate must represent an organization doing good work in the trans community. There is no swimsuit category. There is a category where candidates must demonstrate their advocacy skills through a public service announcement.
Octavia is on a current high from her win. Like any other queen, she has a year of commitments ahead of her, including appearances at the Los Angeles gay pride festival. In thinking of 2012, she returns to her faith once again: "I just think this is a small pit stop for what God has planned for me. I think He anointed me to do something great."
SUBSCRIBE AND FOLLOW
Get top stories and blog posts emailed to me each day. Newsletters may offer personalized content or advertisements.
Learn more