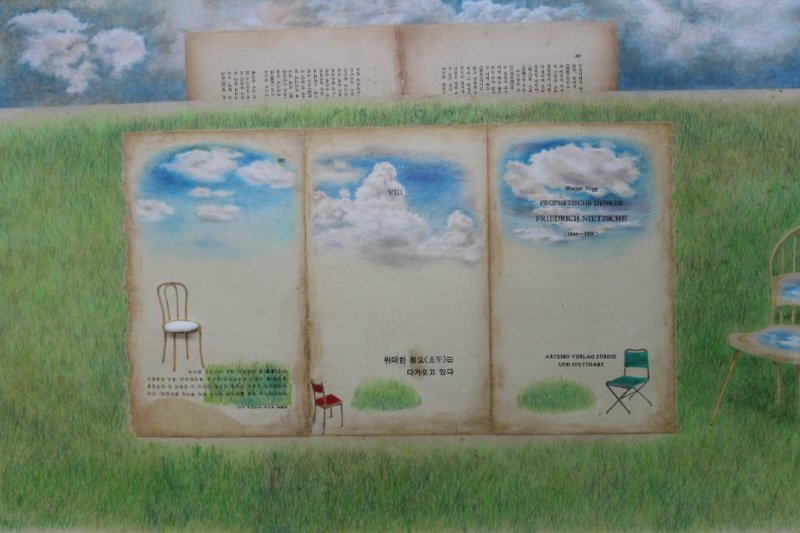 LA Artcore produces The Korean International Art Show, gathering some of the finest artists from Korea to show in Los Angeles. The eclectic work presents a wide range of mediums and voices. Buoyant and colorful, these deceptively pleasant pieces provide a glimpse into Korean creativity.
Curator Wonsil Kim provides some much needed answers about the event taking place at LA Artcore's Brewery Annex.
1. What themes are you hoping to explore with this show?

The main idea of the show is to present art from Korea. Traditional fine art in Korea is Chinese brush with sumi ink on rice paper or silk, and some artists have worked that way.
At the same time contemporary art is prevalent and very active in Korea. For example, two artists show oriental paintings in the show, but those were developed in a contemporary style. Another major artist's work is with paint, but he presents his concept with a projector. Korean art is not different from what artists in America are doing, but they have a sense of Korea in their sub consciousness and their genes.

2. How did you go about choosing the artists?
The show is organized with a variety of work, such as sculpture, painting, installation and fiber art, etc. The artists were chosen who best represent their medium.
3. If there was one thing the audience should take away from the show, what would you hope that to be?
The artists are from Korea, but they want to be seen as artists who make an effort to be good artists. They are working toward their goals like any other artist in the world. The difference is just region. They do not want the audiences to view them with the fixed idea that they are only Korean artists.
4. Do you think the leadership change in North Korea will somehow affect the worldview of artists in South Korea?
No. After the Korean War, the leadership has changed several times in North Korea, but the main idea is still communism. Korea has been in a cold war up until this time. The tension is sometimes high or easy but it has always existed. Therefore, artists in South Korea have not changed. If the leadership changes to democracy, that will be a different story.

5. What are some of the vast differences and similarities between American and Korean artists?
Similarities are that all artists make an effort at being creative and try to survive on creativity.
They are always concerned about the origins of their work and their way of expression.
Art is a language that is their own. On the other hand, that language should be worldwide.
The vast difference is the way of expression. People who are not artists might not be aware of it. Many American artists explain their idea or emotion directly onto their work, so their work is seen as strong and powerful.
Korean artists show their work indirectly, such as use softer colors or lines. They present an emotional, soulful tune under the quiet and calm surface of their work. However, come closer and look carefully: people can feel the meaning under the surface of the art work.
The show closes Feb. 16, 2012
LA Artcore Brewery Annex
650A South Ave. 21, Los Angeles, CA 90031