No wonder Roger wanted Joan to wear that red dress. Or the way Roger described it "that red dress, the one with the bow on the back, that makes you look like a present." I, too, have been thinking about that dress since Sunday night. I'm thinking how and where I can get it. The three-quarter sleeve, hip hugging, wide neckline in the front, v-neckline in the back complimented by a perfect satin red bow has been hard to find by googling that phrase, but I'm determined to find something similar.
Other than that red dress, I fell in love with the stunning necklines on many of the frocks worn by Jane, Trudy, and Joanie, as Roger likes to call Joan. At the SCDP Christmas party, the wives came out in full support, showcasing their holiday best, except Lane Pryce's wife Rebecca, who hates New York. How can anyone hate New York? Sorry, I digress.
Jane Sterling wore a cream sleeveless sheath, but it was that gold and silver beaded Cleopatra high neckline that made it wow! Jane must have been a fan because Cleopatra, starring Elizabeth Taylor, premiered in July of 1963.
Trudy Campbell kept a simpler neckline, donning a long sleeved peach colored dress with pearl and yellow beaded embellishments on the neckline and cuffed sleeves. And then let's go back to Joan. A day before the Christmas party, she added a simple flare to her neckline to spice up her wardrobe. But then again, who am I kidding? That woman doesn't need any additional spices! When Joan was being summoned by Roger to create a last minute Christmas party, Joan appeared in a blazing reddish-pinkish dress, flattered by a floral print scarf pinned together (and apparently pinned to her dress) by a gold brooch. Oh, and let's not forget my favorite: Joan's gold pen necklace. Jewelry and scarves are key to vamping up a plain wardrobe.
(Photo by Mike Yarish/AMC)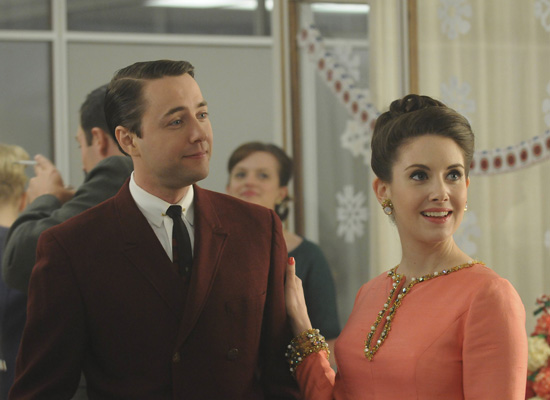 (Photo by Mike Yarish/AMC)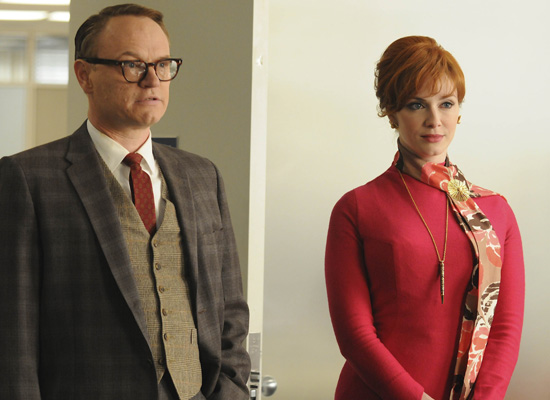 Bring out your inner Jane, Trudy and Joan with this week's Mad Men look of the week. Also, if you want those Mad Men nails, Janie Bryant is teaming up with Nailtini launching Mad Men inspired nail polish.