This week, I'd like to focus on the garments we rarely get to see, underwear and pajamas. Actually, it seems that we've had quite a few glances of undies this season. But, before we get into that, I'd like to discuss what so many of you last week were upset about, especially you ladies!
It shouldn't come as a shock to anyone, except for you men, that women's underwear in those days were anything but a pleasure to wear. Watching some of the Mad Men women in those uncomfortable undergarments makes me sympathize with them. Christina Hendricks, who plays Joan Holloway, told the LA Times magazine back in July "those undergarments really aren't made for relaxing... I have to learn how to position myself, otherwise the boning presses into my guts! It can really hurt those internal organs!" Marianne TB commented last week on my post and wrote "it was considered unladylike not to shove your behind into a plastic girdle, cutting off many major arteries and vital blood flow in the process. All brassieres were built like armored vehicles, capable of massive damage to innocent bystanders whose eyes could easily be poked out by the pointy protuberances." Well, I think that pretty much sums it up.
Women in the 1960's wore pointed bras and panty girdles for their foundations. If you think it was Madonna who introduced the bullet bra or the fembots that wore actual bullet bras in Austin Powers: International Man of Mystery, you're mistaken. Pointy brassieres were a popular look in the 1960's, famously worn under sweaters. The "sweater look" was quite eye catching; just ask Joan and the Japanese Honda representatives from a few episodes back. And have you seen those panty girdles?! There's a picture below for your reference. They look like absolute torture with all those buckles, and boning, and hooks, and zippers. No thank you!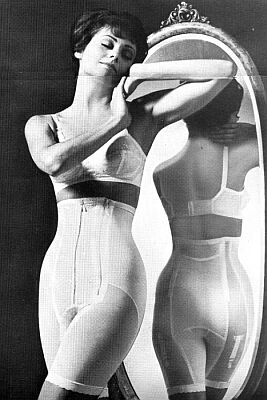 It appears that the only comfortable garments for women in those days were pajamas. Before I go through the Mad Men characters' nighties of choice, I have to talk about the most adorable pink ruffled baby doll nightie we all saw on Trudy this past Sunday. I've gotten so many calls and emails from friends inquiring as to where they could get something similar. Janie Bryant wrote on Twitter that Trudy's babydoll is actually just a "two-piece robe and nightie". Pete, the man behind Trudy, looked quite dapper in the blue squared printed robe that he wore above his light blue button up pajamas. Betty is also a fan of donning robes, which always seem to match her ruffled nightgowns. And speaking of Don... yes ladies, Don wears pajamas. Albeit we mostly see them on the floor somewhere next to the bed, but he has in fact worn them occasionally. When married to Betty, Don would wear button up pajamas with a robe as well. He is now mostly seen either shirtless or in a white crew neck t-shirt with white boxers.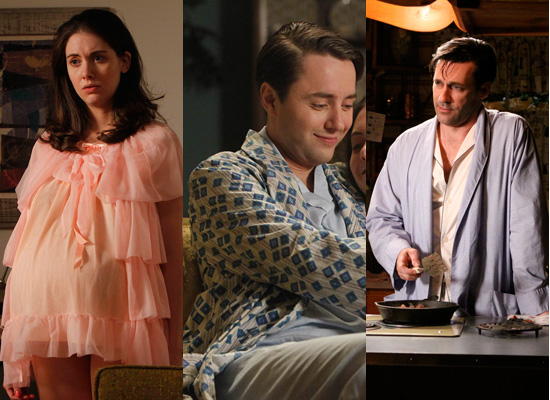 I cannot conclude before bringing up the the surprising appearance of the infamous Playboy Bunny costume on Lane's girlfriend, Toni. Throughout the scene, all I could think about was Gloria Steinem's description of her past experience in her research role as an undercover Bunny. In her "I Was a Playboy Bunny" article she did for Show magazine in 1963, Steinem wrote:
The Bunny Room was chaotic. I was pushed and tugged and zipped into my electric-blue costume by the wardrobe mistress, but this time she allowed me to stuff my own bosom. I added the tiny collar with clip-on bow tie and the starched cuffs with Playboy cufflinks. My nameplate was centred in a ribbon rosette like those worn in horse shows, pinned just above my bare right hipbone. The wardrobe mistress also gave me a Bunny jacket: it was a below-zero night, and I was to stand by the front door. The jacket turned out to be a brief shrug of imitation white fur that covered the shoulders but left the bosom carefully bare.
Well no need for me to describe Toni's costume. Steinem did it perfectly. Except Toni's bunny costume was baby blue.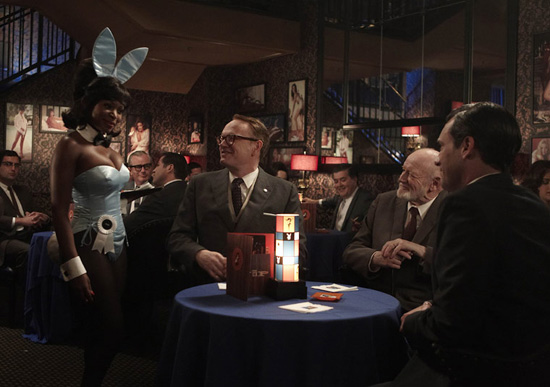 Bring out your inner Trudy, Toni, and Don with this week's costume and pajama edition Mad Men look of the week.
Mad Men photos courtesy of AMC.
SUBSCRIBE TO & FOLLOW LIFESTYLE
HuffPost Lifestyle is a daily newsletter that will make you happier and healthier — one email at a time. Learn more