These days are very good times for bargain hunters, but not so much for retailers. Take a walk through your favorite shopping center or department store. You're guaranteed the deepest discounts you've seen in years. It's like Black Friday started a month ago. Could this be the silver lining in dark economic times? Most who work in retail would disagree. In a country where customer service is the bedrock of business, sales associates are losing their cool as customers curb spending and commissions shrink.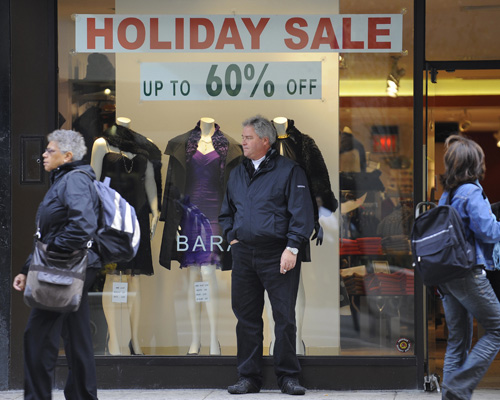 AFP/Getty
Malls are virtually empty. One salesperson from a Nordstrom's in Costa Mesa, California said, "During the week, no one is here. It's almost pointless to work during the weekdays." And it's happening across the country. According to a recent Newsweek article, a fifth of the country's largest 2,000 malls are going out of business. Along with the rest of us, salespersons are afraid of losing their jobs and making ends meet. Retail workers still have to make a living under these harsh conditions and desperate times are definitely calling for desperate measures.
And for many the desperation is turning ugly. Some sales associates are turning on each other. At a Macy's shoe department in Newport Beach, a trickle of customers waited tirelessly to get their items checked out... not because there were a lot of shoppers, but because a greedy and uber-aggressive salesperson was trying to hoard the few shoppers to himself. One of the sales associates behind the counter was becoming extremely agitated and started to have a breakdown. The "greedy" sales associate, who I'll call Bob, had hopped around the store snatching customers in between sales pitches to snag all the commissions, so as each customer was ready to check out, they were stuck waiting for him. The other bothered sales associate, who I'll call Joe, had no customers waiting for him, but was called on to help check Bob's customers out. Joe started screaming "I can't help you" to Bob's impatient customers. He then yelled across the store to Bob "Come ring up your customers... you are not allowed to help a new customer until you finish ringing up your old ones!" The mood in the shoe department started getting very tense. One customer defensively reacted at Joe and yelled back, "I've been in retail for 10 years and that is not the way you treat your customers." Joe then pointed to his nametag and responded "ma'am here's my name... here's my name," challenging the customer to report him. The customer snaped back "I'm just saying you shouldn't speak to us like that." Joe responded, "I'm sorry ma'am I'm just trying to do my job. I'm very stressed." The same customer said back, "you're stressed, I'm stressed, we're all stressed." Amen lady!
A dear family friend of mine encountered another similar experience. Most customers at luxury stores have their own go-to salesperson that notifies you on the latest secret sale. They put items aside for you that you may love and buy knowing that in return you'll be theirs. That is, unless the other co-worker decides otherwise. My friend was confronted with this situation. She strolled through the couture section, looking for a good deal. As a salesperson approached to help, my friend immediately asked for John so they all know that she was off limits. The salesperson replied, "John is not here." In fact John wasn't, at least for another hour since he was only on his lunch break. The salesperson jumped on the opportunity and started helping my friend. Less than an hour later, John came back from lunch and, boy, was he was not happy. John and the other salesperson began a screaming match over who should help my friend. In the end John came up on top. Apparently the other salesperson assumed all was fair in couture and commission. Wrong! Not during these tough times, honey!
If you've been feeling down in the dumps lately, I suggest you strut your stuff at one of your favorite retailers. If no one else notices, the store employees will. Some of these salespersons should conduct self-esteem workshops because they sure are throwing it thick, thick, thick. At Stuart Weitzman the other day, I felt like a glam goddess. As I pored over the 30%, 40%, and 50% off pumps, I was being buttered up with compliments. From my sweater to my shoes - everything was "I love this, I love that," from the sales associates. Even when I tried on a cashew colored suede platform, which looked horrendous on me, they still "ooohed" and "ahhhed" over it. Unless they were admiring the shoe and not me, then that would mean I have serious narcissistic issues. Well then, moving on!

Ba humbug is the prevailing mood of the season because despite the upcoming holiday season, analysts are predicting the worst sales season in nearly two decades. In a new report by SpendingPulse, the retail data provider of MasterCard Advisors, overall apparel sales are down 19 percent from the same time last year. Shoe sales fell 11 percent. And electronics and appliance sales dropped a sharp 22.1 percent. The wealthy are being cautious too. Total luxury sales, including jewelry and high-end luxury stores, also fell 21.1 percent.
Retailers are pulling out all the stops -- from the unprecedented sales, free shipping, to the other incentives including $100 vouchers from luxury brands like Fendi and La Perla. However, these incentives have yet to spur spending. Also, various retailers are becoming more rigid in their return policy. You can pretty much forget about returning something without a receipt. And if you are able to return an item, you'll most likely get store credit. Retail stores are having a difficult time just selling items so think twice about your purchases because they maybe yours forever!
As our economy grows more unstable, so will our shopping experiences. Beware of stressed out retail employees and narcissists, but try to cut them some slack too. After all, no one is safe from this downturn, unless of course we're too big to fail. And if you're Campbell's Soup.