They say a new haircut can make you look, talk, and walk differently. If it's a haircut gone wrong - then you'll most likely talk lower and walk slower or faster if you wanted to get the hell out of somewhere before anyone could see you. But if it's a good haircut then your talk and walk is going to scream, "look at me, LOOK AT ME!" In the last Mad Men episode Peggy was screaming and we were all looking.
I personally have never been a fan of Peggy's taste in clothes or color palette but I loved that très chic gray dress she wore. Let's analyze: The bow beneath her collar was big and adorable, the black belt displayed Peggy's itty-bitty waist and she donned a matching black headband on her new coiffure. Maybe it was the hair or maybe it was the dress but Peggy not only brought in the Popsicle account on her own (I was really craving a popsicle after the episode), but she also marched right up to Sterling and demanded her own office. Sterling accepted her request saying, "There are thirty men out there who didn't have the balls to ask me." You go Peggy!!
Did anyone miss today's current trends featured in Mad Men on Sunday night? Ladies and gentlemen take note: scarves, plaid, the color blue, and fur or if you prefer faux-fur is prevalent this fashion season. Ladies, if you ever want to add flare to your basic handbag, then add a fun printed scarf like Joan did to her purple purse. It was visible for a hot second but you can catch it after Joan's fiancé forced himself on her in Draper's office. Joanie, he may be a thoracic surgeon but he is no keeper!
Plaid was everywhere Sunday night and currently during this fall/winter season. Whatever is to your liking and style, you can wear plaid in many different ways. Below you can see how the Mad Men characters wore it and how today's top fashion designers brought it back. Betty flaunted plaid with a pair of pants while Don advertised (no pun intended) plaid in a button up shirt. Or if you really want to go plaid crazy then take a look at Peggy's completely plaid dress.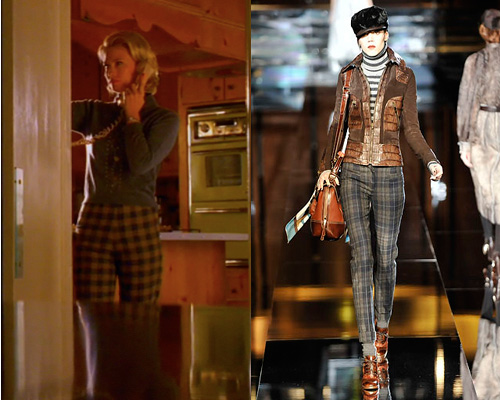 Dolce & Gabbana Fall '08 from Style.com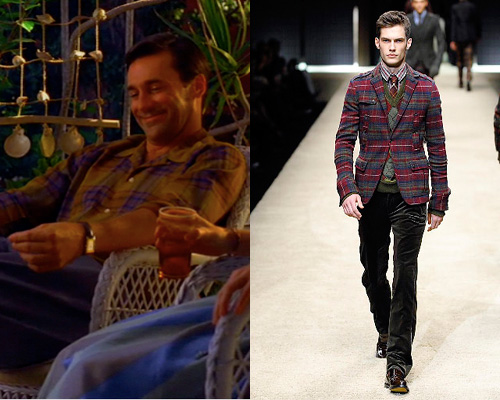 D&G Fall '08 from Style.com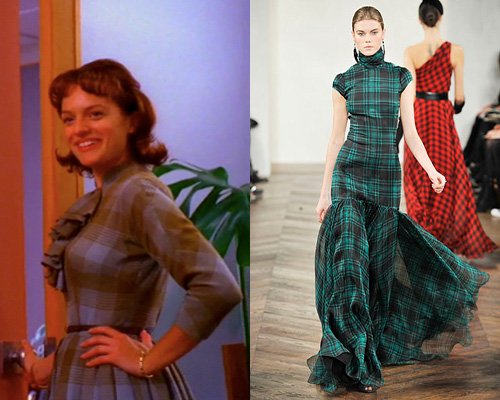 Ralph Lauren Fall '08 from Style.com
Another trend currently stacking the shelves is the color royal blue. The Mad Men women followed suit on Sunday by saying bye-bye to pastels and hello to rich royal blue, from Betty's turtleneck to Peggy's cardigan sweater as well as Anna Draper's (the real Mrs. Draper) Christmas dress.
Lastly, I don't think we can forget Bert's sister, Alice Cooper's fur fetish. Not only is she bold in personality but also in fashion sensibility. She sported a fur trimmed pillbox hat and literally an animal, I'm assuming it was a fox around her neck during the meeting with Bert and Roger. When Alice wanted to know where Don was and wanted his opinion on the merger of Sterling Cooper, Roger looked at Alice and said "I'm sorry, I don't know which eyes to look at - referring to the many heads on Alice's fur wrap. I'll be honest, I love fur - real and faux but I would never wear fur wraps with heads included. That's one fashion trend we can leave for the 60's.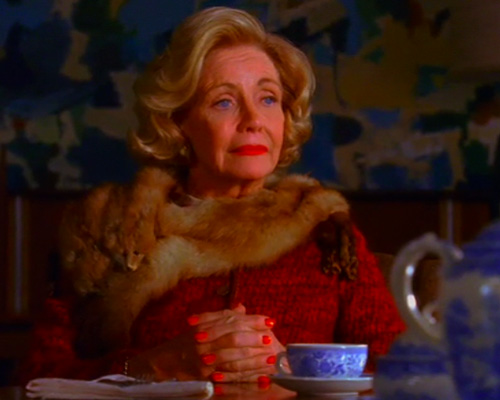 Don't forget to bring out your inner Betty, Peggy, and Joan with this week's Mad Men look of the week.

SUBSCRIBE TO & FOLLOW LIFESTYLE
We're basically your best friend… with better taste. Learn more