New York City may be one of the most densely populated corners of the world, but it's also surrounded by water -- lots of it. This geography translates into an extensive coastline with miles of beaches, from the pounding surf of the Rockaways to unspoiled crescents on Staten Island. For many local beaches, the only thing you'll need is a towel and subway card. Hurricane Sandy ravaged much of New York City's coastline in late 2012, particularly in the boroughs. But thanks to robust rebuilding efforts, New York City's beaches are officially open for the 2013 season, according to a recent announcement from Mayor Bloomberg. Still, some areas are still recovering, so there may be limited access and amenities at certain New York beaches.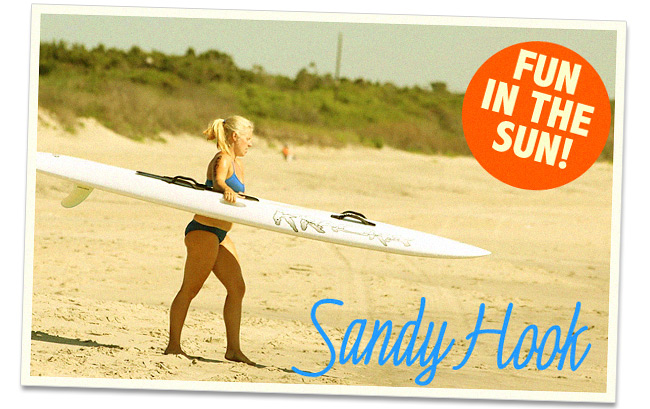 "So Close to Manhattan, So Far Away in Spirit" is how the New York Times described this pristine beach on a slender peninsula at the northern tip of the Jersey shore. After being badly battered by the hurricane, Sandy Hook reopened in May and is once again welcoming sun-seekers with its seven miles of beaches and dunes, plus hiking and biking trails. It's not just about soaking up the sun. The area is also rich in history, with the National Historic Landmark of Fort Hancock and the Sandy Hook Lighthouse, one of the oldest in the country. Northern tip of the Jersey Shore, sandyhookfoundationnj.org
Getting there: Hop on the Seastreak ferry (seastreak.com), which operates daily from Memorial Day to Labor Day, departing from East 35th St. and Pier 11 at Wall St. A variety of bus and train services also serve Sandy Hook, from New York City and elsewhere in New Jersey.
This barrier island off the south shore of Long Island has something for everyone, from the cocktail-fueled gay nightlife at the Pines to massive stretches of windswept beach can seem almost private and the mist-soaked Sunken Forest, one of the few remaining maritime forests on the Eastern Seaboard. Fire Island National Seashore encompasses much of the island, with top beaches like Watch Hill, in the middle of Fire Island, across the Great South Bay from Patchogue. The inviting sandy beach has lifeguards in the summer, and amenities in the surrounding area include camp sites, a visitor center, hiking trails and more. And anyone who has ever been stuck in Midtown traffic will appreciate the fact that Fire Island has no paved roads or cars -- the only way to get around is by foot, bike or golf cart.
Getting there: Long Island Railroad (LIRR) travels to three ferry terminals on Long Island -- Patchogue, Sayville and Bay Shore -- where you can catch a 20-minute ferry to the island.
South Beach, Staten Island
The Verrazano-Narrows Bridge draped over the water in the distance brings an elegant cachet to this well-maintained beach on the eastern shore of Staten Island. South Beach (unlike its hedonistic cousin of the same name in Florida) is invitingly quiet, offering a good balance between nature and amenities, which include the 1.7-mile Franklin D. Roosevelt boardwalk, a fishing pier and annual events like fireworks and concerts. Staten Island was slammed by Hurricane Sandy, and while most beaches have reopened, access may be limited in some coastal areas. Eastern shore of Staten Island, nycgovparks.org
Getting there: Take the Staten Island Ferry (siferry.com) from Manhattan, then bus S51. Or bring your bike for a beautiful ride from the ferry station.
No Snooki sightings here. This well-kept beach is proof that the Jersey shore isn't all spray tans and pinky rings. The Long Branch beaches are wide and sandy, giving way to the cool waters of the Atlantic. For gourmet ice-cream, waterfront dining and upscale boutiques, head to nearby Pier Village (piervillage.com). Northern Jersey Shore, visitlongbranch.com
Getting there: New Jersey Transit trains travel regularly between New York Penn Station and Long Branch. The walk to the beach from the station is under a mile.
The nickname for this peninsula -- Rockapulco -- may be a bit of a stretch, but this sunwarmed spit of land that juts into the ocean does have some of the NYC's best beaches. Rockaway Beach offers a summertime cocktail of good sands, strong surf and plenty of snack shacks, outdoor sports and other amenities. Several surf camps and schools have opened over the last few years to accommodate the weekend boarder. If you're feeling some trepidation about hitting the waves, try the friendly Skudin Surf school (skudinsurf.com), whose motto is "If you can stand, you can surf." Rockaway Peninsula, nycgovparks.org/parks/rockawaybeach
Getting there: Take the A train to Broad Channel, then transfer to the S train to Rockaway Park-Beach 116th St.
See more from NewYork.com
SUBSCRIBE TO & FOLLOW THE MORNING EMAIL
The Morning Email helps you start your workday with everything you need to know: breaking news, entertainment and a dash of fun. Learn more