OffTheBus community members attended debate watch parties around the country and sent us their reports. We've posted a selection below.
The overall impression was that, at the largely pro-Obama gatherings, the feeling was that McCain prevailed by performing stronger than expected. As Ellen Gill reports, in conservative Lake County Illinois, the let-down reaction from the party attendees spurred Democracy for America leader Matt Lowry to deliver a pep talk after the debate concluded.
Matt was struck that people seemed to be losing their enthusiasm because of the perceived debate loss, or at best, tie, and wanted to make the point that we cannot leave this debate feeling bad or questioning our candidate's strength. We have a lot more doors on which to knock and phones to ring and we have to understand that Obama is not behind. He's actually ahead in the latest polls.... This is not the time to let each little McCain comment or lie affect our enthusiasm or confidence in our ticket, he said.
Margo Dunaj
Gathering The Whispering Democrats In Texas
Surprise, the venue was too small. Organizers reported 160 watched the debate while 40 more were turned away due to "seating limitations and fire restrictions." Yes! In Texas! Who'd have thought? It's lonely being a Democrat here.
Most believed that it was a tie, with Obama taking the first portion more geared to the economy and McCain won the latter portion strictly on foreign policy. We were instructed not to be discouraged...
A little surprising was the appearance at the party of Judy Woodruff and her crew. I mean, a Cuban restaurant in Kendall's Town and Country Mall is surely a long way from the thick of things... Or maybe not.
"I'm looking for the truth, the most truthful of the two. I check facts... I just want the person who wins to make the right decisions for America, for America to be alright."
It's Happening All Over America!
There were sighs and moans of disapproval to McCain's red-scare rhetoric on Russia and USA protection of Georgia as pending NATO member, winning the Iraq War, frequent POW hype and reference to Palin as his great partner.
Sarah Moglewer
McCain Mocking In Arizona
The group thought that McCain was ungracious and unkind towards his opponent. They also felt that he was old, cantankerous and too tired to do such an important job as President of the United States.
"I'm hoping that after the election... people will start to recognize that this is how our constitutional democracy is supposed to work --- people coming together in small groups..."
Illinois is not a swing state but people who came out to watch the debate here ended up volunteering for phone banks, letter writing campaigns and canvassing in nearby Wisconsin and Iowa.
Tonight in Tucson, about 40 citizens gathered in Congressman Raul Grijalva's headquarters to watch the first debate of the presidential candidates. Attending was a coalition of volunteer groups: Grijalva/Obama volunteers; 'Vets for Obama'; and citizens for or against many propositions on the ballot, many state legislature issues. Social Workers, Vets, moms, dads, students, professionals.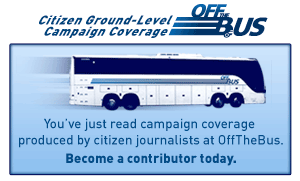 SUBSCRIBE AND FOLLOW
Get top stories and blog posts emailed to me each day. Newsletters may offer personalized content or advertisements.
Learn more