Former Senator Mike Gravel (D-Alaska) informed supporters Wednesday morning via email that he intends to leave the Democratic Party and seek the Libertarian nomination for president.
Today, I am announcing my plan to join the Libertarian Party, because the Democratic Party no longer represents my vision for our great country. I wanted my supporters to get this news first, because you have been the ones who have kept my campaign alive since I first declared my candidacy on April 17, 2006.

The fact is, the Democratic Party today is no longer the party of FDR. It is a party that continues to sustain war, the military-industrial complex and imperialism -- all of which I find anathema to my views.

By and large, I have been repeatedly marginalized in both national debates and in media exposure by the Democratic leadership, which works in tandem with the corporate interests that control what we read and hear in the media.

I look forward to advancing my presidential candidacy within the Libertarian Party, which is considerably closer to my values, my foreign policy views and my domestic views.
The email concluded with an appeal for money.
The Libertarian Party's values are often considered at odds with those of Franklin Delano Roosevelt's Democratic Party, a hallmark of which was vast expansion of federally supported social assistance programs.
The full email follows at the end of this post.

Read more about the Libertarian Party here, or visit their website by clicking here.
Visit Mike Gravel's website here.
OffTheBus contributor Melissa Hapke contributed to this article.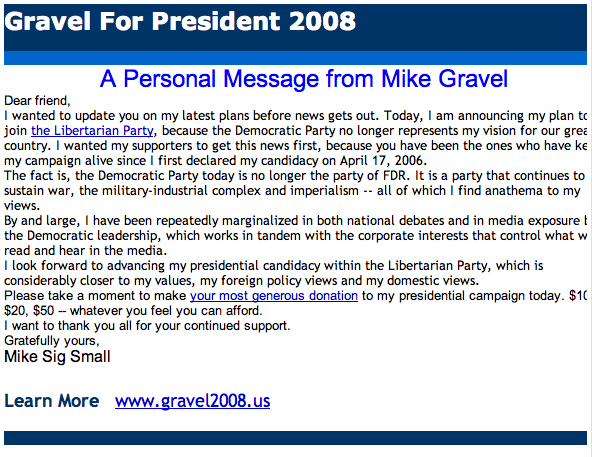 SUBSCRIBE TO & FOLLOW THE MORNING EMAIL
Start your workday the right way with the news that matters most. Learn more