HuffPost's OffTheBus reported from Super Tuesday states, including New York and California. Take a look below at our dispatches from across the country.
Racism Greater Factor Than Sexism On Super Tuesday by John K. Wilson
"Obama was hurt by race-based voting, while Clinton was greatly helped by gender-based voting."

Democrats' Prolonged Contest Raises Specter of Backroom Deal by Nat Bach
"One wonders if Dean was (and still is) secretly hoping that one of the candidates either implodes or comes close to running the table. For the sake of the party, of course."
God is Good: The Quiet Christian (R)evolution by Linda Hansen
"The Super Tuesday Southern Surge for Mike Huckabee may have surprised media talking heads, but it came as no great shock to those of us who live in the South."
Obama Fever All Around Idaho on Super Tuesday by University Of Washington's SeattlePoliticore
"Barack Obama had a tremendous amount of enthusiastic people turn out in both congressional districts in Idaho yesterday."
Big Republican Tent, Big Fight by Lou Dubose
As he has achieved frontrunner status, the attacks on John McCain from the right-wing of his party have intensified.

Why Not Barack? by Donn Swaby
"Under Obama, tax breaks for corporations will be made public on the internet. How about making tax breaks for corporations non existent?"

Democratic Candidates Face A Long Haul by Daniel Nichanian
"Super Tuesday is gone and has resolved nothing. As of yesterday, there was an end in sight; now, no one knows how long this could last."

Play by Play Super Tuesday Recap by Daniel Nichanian
"A breakdown of the evening as the results came in."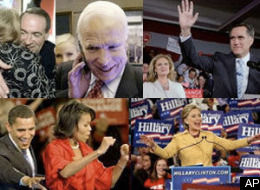 Obama Fever All Around Idaho on Super Tuesday by Laura Mansfield
"Barack Obama had a tremendous amount of enthusiastic people turn out in both congressional districts in Idaho yesterday. "

What Happened Inside A Boulder Caucus by John Tomasic
"Standing room only, people were crushed into the lobby and lines were streaming out of the open doors down the sidewalks. Police were reportedly redirecting traffic on the street."

Romney Receives Mixed Reception At Homecoming by Elana Berkowitz
"Despite the fact that Mitt Romney has, so far, only officially won Massachusetts and Utah in the Super Tuesday contests, the crowd remains relatively pumped."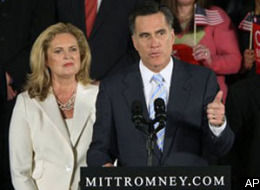 Youth Come Out For Obama in Northern Idaho by Kathleen Miller
"The youth voters came out in full force for Barack Obama in Northern Idaho tonight. Many of the younger participants expressed their belief in Obama's ability to create change."
VIDEO: Double Bubble Trouble in CA by WhyTuesday?
"This state, with a tradition of high turnout, activist communities and 441 delegates, is the focus of today's media coverage. Here, the popularity of elections is sure to expose even the most minute hiccup. Today, there was one."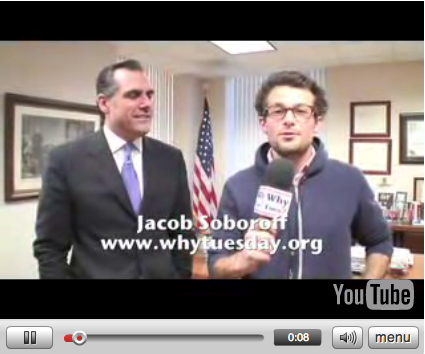 North Idaho Caucus Preliminary Results In by Kathleen Miller and Celia Hunko
"Here are the preliminary results for the Kootenai County Democratic Caucus . . . "

Obama Supporters Run Rampant in Northern Idaho by Kathleen Miller and Celia Hunko
"1,205 people are in currently in the gymnasium where the caucus is being held, a vast majority of them Obama supporters."
NY: Barack Takes a Bite by Bev Davis
"In America's most famous little town, still populated by pot smokers, pool players, grey-haired hippies, and artists, the Obama factor is weighing in heavily despite Clinton's expected win here."

Huckabee Fails to Keep Southern Evangelical Base United by Chip Berlet
"Republican presidential contender Mike Huckabee started out his speech on Super Tuesday with two Biblical references, when in fact, his Biblical base is slipping--but not far away."
VIDEO: Students Elect to Campaign by Stephen Pacer. Produced by Megan McGibney
"Local students, energized by the presidential race, signed up as campaign volunteers - passing out fliers, making phone calls and flocking to rallies leading up to Super Tuesday."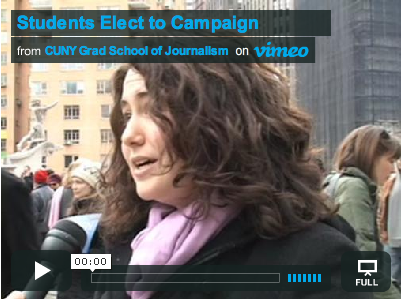 Local Blogs and Papers Think National by Eliot Caroom
"This year's unusually competitive presidential primary has led some of Brooklyn's own media elite to an unusual decision: for the first time, some local news outlets made endorsements in the national race."
VIDEO: Pulpit Pitches Rankle Some Churchgoers by Djenny Passe-Rodriguez
"Djenny Passe-Rodriguez spoke with Harlem churchgoers about the appropriateness of religious
leaders endorsing candidates from the pulpit. Watch the video below (running time 2:40)."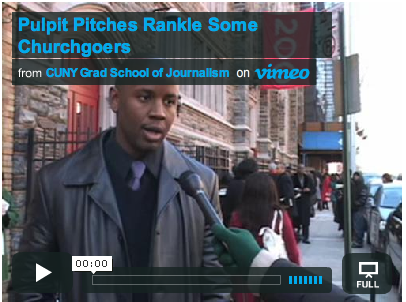 VIDEO:
African NYers Weigh Obama's Chances by Adeola Oladele. Produced by Abimbola Ishola
"Adeola Oladele spoke with African immigrants in Brooklyn. Watch the video below (running time 1:51)."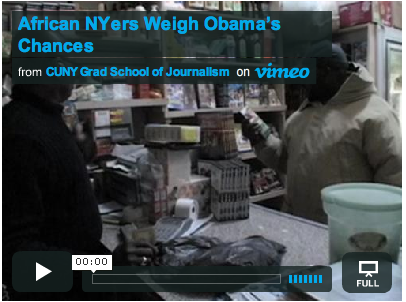 On The Trail In The Gateway City by Jeanine Molloff
St. Louis was the center of the political universe this Superbowl weekend as each of the remaining candidates found their way to the Gateway city.

Starbucks In His Eyes For Obama by Lakshmi Gandhi
"In a corner of the Starbucks on 181st Street in Washington Heights, Gregg Ross carefully coordinated volunteers for Barack Obama Tuesday morning."

Democrats Don't Let Democrats Do Fox: Why Did Hillary Clinton Accept Fox Debate? by Jane Hamsher
"On a conference call today, Howard Wolfson of the Clinton campaign has said that Hillary Clinton will appear in a Fox News debate on February 11 in Washington, DC."
Record Turnout Expected At Kootenai County Democratic Caucus by University Of Washington's SeattlePoliticore
Increased Security At Kootenai County Democratic Caucus by University Of Washington's SeattlePoliticore
"We have some very strong anti-Democratic groups in the area," said Tamara Poelstra, Democratic caucus chair for Kootenai County in northern Idaho."
California: Four Hours Before Poll Closing by Mayhill Fowler
"Four hours before polls close in California, the word on the street is that Independents are finding it tricky to vote in a Democratic Primary."
Presidential Hopefuls Squeeze Floridians for Cash by Ron Levitt
"The Sunshine State continues to be a cash cow both for Democrats and Republicans who are still milking Floridians for bucks to pay for their continuing presidential campaigns."
It"s War Say Opponents to FL Anti-Gay Ballot Initiative by Ron Levitt
"Opponents to an anti-gay marriage amendment to the Florida constitution - which now appears to be headed for the November ballot - announced they intend to wage an all-out war for its defeat."

Clinton and Obama Supporters Scramble for Last Minute NY Support by NYCity News Service
"In a city where the Giants and their Super Bowl heroics loomed large, there seemed to be as much conversation - and action - generated by the pre-election hoopla for Super Tuesday."
NYC Latinos Torn Between Clinton And Obama by James Trimarco
"The feeling that the choice between Clinton and Obama is tough is common throughout the diverse Latino communities of New York City, and both campaigns are fighting hard for this group's vote."

DC: Staffers At Clinton's Favorite Restaurant Spill the Beans by Scott Shrake
"Like Bill, I still eat at Lauriol Plaza. I interviewed five Latinas, five Latinos, one Caucasian American woman and one African-American woman to find out who they supported this electoral cycle."

Wooing Colorado's "Chardonnay and Brie" Liberals by John Tomasic
"Academy Award winner Forest Whitaker rallied Obama supporters today in Boulder, Colorado, speaking with what was referred to last election as a crowd of "chardonnay-and-brie liberal" townies."

California: Chelsea Clinton Mines For Votes by Mayhill Fowler
"Stumping for her mother in California, Chelsea has turned down an invitation from her alma mater in favor of Mills College."
Michelle, Oprah, Caroline Stump For Obama At UCLA by Cristina Chang
"Sunday's star-studded rally at UCLA for Democratic hopeful Barack Obama offered his California supporters one last chance to gather together on behalf of their candidate before the state's primary on Tuesday."

VIDEO: Obama Caravan Poaches Latino Hillary Supporters by Daniel Macht and Rosaleen Ortiz
"A 14-car caravan of Obama supporters cruised the streets of the Bronx and Upper Manhattan Sunday while blasting horns and Spanish reggaeton music through Hillary friendly neighborhoods."
Bronx "Stop Three: Starbucks on West 225th by Annie Shreffler
It took a little convincing for Kenda Nunez, Baltazar Cortez and Geraldine LaPenne to let their lattes cool a minute while they talked politics, but soon they got fired up and realized they had a lot to say."
Bronx "Stop Two: National Doughnut on Bedford Park Blvd. by Annie Shreffler
In the central Bronx neighborhood of Bedford Park, we talked with Lourdes Roche and Mark Anthony Seda about prescription drug costs and troop withdrawal. Listen to the doughnut shop discussion."

Evangelical Power Vastly Diminished Headed Into Super Tuesday by Dan Treul and OffTheBus
"The so-called "evangelical vote," often cited by media analysts as a crucial constituency in securing the Republican nomination, is likely to exercise considerably less influence this cycle."
Obama Supporters Seek Souls After Sunday Service by Cristina P. Alesci
"Obama volunteers mounted pulpits over the weekend in a statewide effort to petition worshippers for their support. On Saturday, campaigners focused on mosques, where they distributed literature about the candidate."
AUDIO SLIDESHOW: Bronx Stop One: El Valle restaurant on Jerome Ave by Annie Shreffler

"A weekend trek to local eating spots in the Bronx introduced us to voters who debunk any notion that the borough's residents are united on choosing their candidate."

Obama Rewriting Rules of Conventional Campaigning by Andrew Gumbel
"If Obama comes close or even surpasses Hillary Clinton's vote totals in California and the other big Super Tuesday states, it won't just keep him in the race for the Democratic presidential nomination. It will overturn conventional wisdom, shared by both major parties, on how to run a successful political campaign."


Political Traders: Can't Get Enough of That Hillary Stuff by Clark Merrefield
"With Super Tuesday on our toes, and with pundits and papers all atwitter with prediction fever, this might be a good time to take a quick look at what the Iowa Electronic Markets have to say about the presidential nominations. "

Students for Hillary: No More Promises, We Want Proof by Lakshmi Gandhi
"The gathering attracted many younger voters, most of whom stressed Clinton's legislative record and public policy experience over opponent Barack Obama's youth and focus on hope."
AUDIO SLIDESHOW: Apathy and Hope in Atlantic City by Joshua Cinelli
"Atlantic City, home to wealthy casinos and extreme poverty, is both apathetic and hopeful about the coming election. Watch the audio slideshow and find out why."
Pushing Back Against Hillary Haters by Jane Hamsher
"I was watching MSNBC this morning and wondering how much the media thrall surrounding Barack Obama has been worth to his campaign.Having seen Obama mania up close and personal the media didn't make it up, but the way they..."
AUDIO SLIDESHOW: Worried About Economy, NY Latino Barber for Obama by Claudia Cruz
"Not every New Yorker supports their hometown politician. Mr. Luis Cordova, an immigrant from the Dominican Republic, would like to see Barack Obama win the presidency."
Obama Supporters March Over Brooklyn Bridge by Cristina P. Alesci
"Gregory Smith calls himself the gardener of a grassroots movement that drove a crowd of Brooklynites to march over the city's most iconic bridge in support of Barack Obama."
VIDEO: On the Trail With Harlem for Obama by Dana Oliver
"Dana L. Oliver speaks with the members of this group about its role in the election process, what the people of Harlem want, and why Obama is the right man for the job."
Ted Kennedy Takes on Bay Area," by Mayhill Fowler
"In a few months it'll be forty years since Robert Kennedy was assassinated here in California. I remember the quiet queue of mourners in New York winding around Madison and Fifth, filing in and out of St. Patrick's Cathedral all night long before his funeral."
Obama and Latinos: Santa Ana Ground Zero by Jon Wiener
"The Obama campaign, intent on taking some of the crucial Latino vote in California away from Hillary Clinton, organized a day-long door-to-door canvas on Saturday in the region's most Spanish-speaking city just south of Disneyland."
Obama Hot on Hillary's Heels in California by Mayhill Fowler
"Where it is clear that Obama will pick up votes is from the substantial number of John Edwards supporters in Northern California."
From Obama Supporter to Volunteer in Three Days by Matt Townsend
"My younger sister called me Saturday afternoon from Denver, Col. with excitement in her voice.
"I just got back from phone banking, and it was awesome," Sarah said."
On the Scene at a Hillary Rally by Allison Fine
"I attended a boisterous rally of Hillary supporters in White Plains, NY today. Hundreds of folks particularly union members who were nurses, teachers and, my favorite, the IUPAT."
Latina Clinton Supporter Campaigns in Bronx by Matt Townsend
"Only in New York City could you find a woman from the Honduran rainforests trying to convince an Indian man to vote for a woman president while they smoked cigarettes outside a salsa bar."
NY: Iraq Key Issue for Obama Supporters by Alexandra Zendrian
"Many people who attended the Generation Obama rally in New York noted the importance of Obama's consistent view on the war in Iraq, mentioning that he is the only Democratic candidate who has been against the war from the start."
AUDIO SLIDESHOW: Pub Crawling for Obama by Matt Townsend
"A handful of Obama supporters toured bars in the East Village on Friday night. They talked up the senator's better points to fellow New Yorkers over pints of Guinness and Stella."

Stevie Wonder, Diane Keaton On Horse Race Coverage by Jacob Soboroff
"I just spoke to Stevie Wonder, Diane Keaton and Los Angeles Mayor Antonio Villaraigosa about the role the media plays in increasing or decreasing voter participation."
Last Night's Clinton / Obama Lovefest: Who Needs Whom More? by Nat Bach
"Whatever the merits or possibility of a united Democratic ticket, one conclusion seems inescapable: Clinton needs Obama more than Obama needs Clinton."
Dear MSNBC: Keep the "For Sale" Sign Off Your Pundits by Jane Hamsher
"Television pundits have a self-serving addiction to seeing elections through a lens of broadcast advertising, polling and media-friendly news clips."

Dems Ponder How the West Might Be Won by Jim Spencer
"The political director for the Democratic National Committee showed up in Colorado in December. He came, said Colorado Democratic chairwoman Pat Waak, to measure progress in his party's so-called "Western strategy."

Obama Packs The House In Denver by John Tomasic
"This morning the Obama campaign held a rally at the University of Denver that caused traffic jams that made the highways look like a mini-version of the nightmare Los Angeles 405."

Gov. Schwarzenegger: Make Voting "Spicy" by Jacob Soboroff
What does the California Governor think we can do to maintain the increase in voter participation that we've seen so far in the 2008 presidential race?
Bill Bradley: McCain / Huckabee Toughest GOP Ticket by Mayhill Fowler
"Bill Bradley headed to California to stump for Democratic hopeful Barack Obama in anticipation of the state's primary"

The Ins And Outs Of Super Tuesday by Jacob Soboroff
"What is Super Tuesday all about? And what's up with our six-month-long primary election schedule?"

Obama's Electoral Advantages (and Clinton's Troubles) by Nat Bach
"This election season, pundits have repeatedly said, "If anyone could possibly lose this election for themselves, it's the Democrats." If our pick is Clinton, that prophecy may just become reality."

Obama Camp Makes Gains In California Ground War by Mayhill Fowler
"Nine days from the primary, Obama California is waging day-to-day skirmishes to take the lead from Hillary Clinton."

White Voters Deserve More Credit by Peter Dreier
"The Clinton campaign message was transparent: they are trying to pigeonhole Obama as the "black" candidate -- not simply as a matter of pigmentation but as a matter of voter appeal."