We asked OffTheBus readers to send us witty observations of life during the final weeks of the 2008 presidential campaign limited to 100 words and we were not disappointed by our first batch of entries. Thanks to the more than 300 of you who replied. We have picked samples that show a wide variety of observations from around the country. If you are volunteering on a campaign and have heard something the rest of us would enjoy, if you have an anecdote that tickled you, please send 'em on to us. Submit your note to us using this Survey Monkey page. We will keep posting the best entries each Monday until the election. Here are some of the top picks for this week:
Whatever Sarah Palin may think about Monty Python, they certainly have strong opinions of her. During a touring performance of the Broadway hit "Spamalot," the infamous Knights of Ni extended their usual patter by rolling into a string of Palinesque nonsense punctuated by 'betcha' and dropped Gs. Half the audience roared. Half squirmed. Since we were all missing the second presidential debate to attend the performance, it was a much-needed fix for those of us political junkies in withdrawal.
--Linda Lowen, Syracuse, NY
In the supermarket checkout line, a woman piped up to stop my friend from criticizing Governor Palin, saying, "She's great; just like me!" I turned and asked her, "So, you think you could be president?" "Oh, no!" she replied. "Case closed," I said, to the sounds of guffaws throughout the checkout counters.
--Norma Armon, Oakland, CA
Watching TV as I blog. Barack speaks. Dow goes up. McCain speaks. Dow goes down. Paulson speaks. Dow goes up. Spare me Bush!
--Stephen C. Rose, New York, NY
Last weekend, we traveled to Las Vegas to work for Obama/Biden. On Saturday morning, while canvassing door-to-door through neighborhoods where one-third of the houses were vacant, for sale, or under foreclosure, we came upon a well-kept home with a McCain/Palin sign on the front lawn. A man answered the door, and when I handed him a piece of Obama/Biden literature, he appeared genuinely supportive, which naturally caused me to ask him about the sign. The man gave me a sheepish look. "Getting a late start on my chores today. It's on top of my list. Removing the sign."
--Erik O'Dowd, Santa Barbara, CA
Watching the VP debate with a group in Chicago. There was respectful silence at first, then someone voiced in astonishment, "She can pronounce Ahmadinejad. but she can't say 'nuclear'?!"
--Don Baird, Chicago, IL
As a former Midwesterner, I loathe Palin's fake Joe-six-pack/hockey mom accent. During the last presidential debate, my Obama-supporting Republican friend's eight-year-old daughter, who just couldn't do her homework while we were watching TV, emerged from her bedroom with a big smile on her face and announced: "I'm watching the debates too. I'm watching in Spanish. McCain sounds smarter in Spanish."
--Nancy Emsley, Oceanside, CA
It seems to Republicans, San Franciscans are just a bunch of gay lovin', global warming frettin', tree huggin', peacenik, anti-oil-drillers, who hate America. "Five out of six ain't bad," said my friend at an informal debate party held here in the hipster Mission district while we were considering the merits of this moniker while watching John McCain prowl the Tennessee stage, walking like an Umpa Lumpa with a comb over. "Someone has got to be the Ying to that Yang," she added.
--Scot Bishop, San Fransisco, CA
"I'll tell you something I don't know. I don't know what the unexpected will be," said Senator McCain in last night's debate. A friend of mine laughed. "Now that is the man who will give me an appropriate 'absurd quote of the day' desk calendar," my friend observed. "I don't think Obama has it in him. And that's going to hurt desk calendar sales next year." In these trying economic times, McCain seems to be the only candidate willing and able to -- as the great W. once said -- "help put food on our families."
--David Goldstein, Woodland Hills, CA
A friend of mine writes, "You know how McCain called Obama 'that one'? That's EXACTLY what they called him in the barbershop here. After stating flatly that they couldn't vote for Hillary Clinton because she is a woman and the Bible explicitly forbids men being subordinate to women, one of the men hanging out said, 'Yeah, sure, you can't vote for her, but you can't vote for 'THAT ONE' either -- so I guess we just have to stay home.'" "That one" is a racist codeword.
--Hilary Lambert, Lexington, KY
On the election battle-lines at Ohio State University, my favorite experience was the scrum at the door of Veterans' Memorial Convention Center as Ohio early voting began. We streamed in, dirty and strung-out after sleeping outside, past video cameras and shiny-looking state employees, and ran up the stairs. Coffee slopped from my cup as Dan and I cried our Spanglish cry, "Obamanos!" It was my first election. Filling in the bubble gave me great satisfaction, knowing that I was among the first thirty people to vote for Barack Hussein Obama for President of the United States of America.
--Oliver Renwick, Columbus, OH
As we pulled into the restaurant lot we noticed a young black woman and white man get out of a van with an Obama 2008 sticker on it. My husband and I both agreed that we liked the owners' choice. As we caught up to them I said," I like your Obama sticker." She gave me the high sign and said, "he's MY brother of a different mother." I laughed and said, "he's MY brother of a different father." We gave each other the high-sign and went our ways. What an enjoyable moment.
--Mary Jarrell, Danville, WV
My 86-year-old mother gets pushed around in a wheelchair, but when it comes to this election, my mother is no pushover. After the Saddlebrook town meeting, she observed, "McCain told a lot of little stories. People like that." Then McCain named Sarah Palin and she said, "Sarah isn't smart. People don't like that." After the Nashville debate, she observed: "Obama looked comfortable with himself. People like that." Her most recent report from Florida: "All my friends are voting for Obama. Except for Lori. But her four sons are voting for Obama." My mother paused, then added: I like that."
--Susan Lapinski, New York, NY
The most gratifying calls I have made are to Republicans who can no longer vote for their party's candidate. There are just too many reasons why Obama is superior to McCain and they are switching parties for the first time in their lives!
--Barbara Kyser, Los Altos, CA
This is our first presidential election as New Englanders, and we've noted the more muted political expression in our new community. Instead of drivers beeping, pointing to our Obama car magnet, and giving an affirmative shout, as is the norm in our New York hometown, folks here exhibit the famous Robert Frost simplicity of speech. Getting out of my car at the same time as my neighbor, we shared hellos and he said, "I like your bumper sticker." A quick learner, I made it inside before raising my arm and my voice in a loud, "YES."
--Diane Taber-Markiewicz, Vernon, CT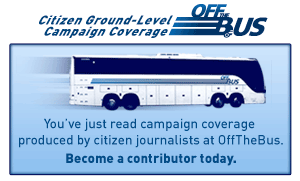 SUBSCRIBE TO & FOLLOW THE MORNING EMAIL
The Morning Email helps you start your workday with everything you need to know: breaking news, entertainment and a dash of fun. Learn more