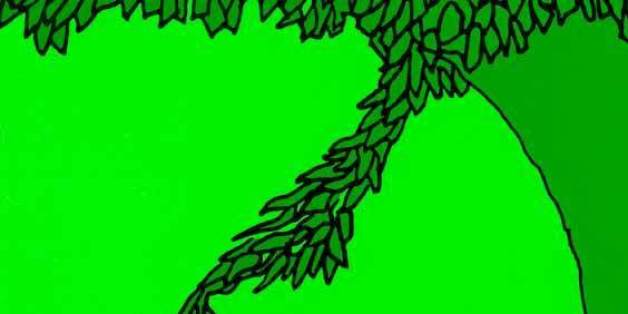 Robert Levy is a Harvard graduate subsequently trained as a forensic psychologist. He is also an award-winning playwright, having multiple shows developed Off Broadway. His book The Glittering World is coming out from Gallery Books in February. 
In May, The New York Times Book Review's "By the Book" column asked the author Leah Hager Cohen about the worst book she had ever read. Her answer? Shel Silverstein's The Giving Tree. "I cannot understand why this book, which sentimentalizes entitlement, benightedness and contempt, became a classic of children's literature," she pronounced, with what I took to be self-righteous certitude.
I was astounded by her response. The Giving Tree? The beloved book of my childhood that I read to my own children today, stifling tears at its bitterly ironic message of ecological consumption and mindless greed? How could Silverstein's parable be misinterpreted as a straightforward tale extolling the virtues of selflessness and sacrifice? Does anyone really think Silverstein intended his readers to happily accept that the tree, reduced to a mere stump at the story's conclusion by the boy's relentless taking, should truly be pleased by the boy's actions, and that we should be as well?
Apparently so. One quick online search laid bare a passionate presence of The Giving Tree haters who virtually high-five one another over their shared disdain of the book. "This book reeks of the patriarchy," a Goodreads member wrote in her one-star review. "Keep it away from your kids -- especially your daughters." One blogger argued that it "romanticizes self-destructive and self-negating behavior in women.... [T]he boy is a self-centered chauvinist who abuses the tree to the point of destroying it." After reading similar indictments -- mostly from women -- I could no longer read the book in quite the same way, a shadow cast over my once unshakable interpretation. My own self-righteous certitude had been duly punctured.
Last year marked the fiftieth anniversary of The Giving Tree. Published in 1964 by Harper & Row, the story of a boy and his tree (or is it a tree and her boy?) wasn't an immediate success. Its sales grew steadily, however, and soon the book became a perennial bestseller. The Giving Tree has gone on to sell many millions of copies, with over ten million in print. Its cover illustration of the tree dropping an apple down to the boy has become its own iconic image, one you can find on cell phone cases and laptop decals that incorporate the Apple logo into the design. No less a cultural force than Bart Simpson has weighed in, when, as part of a running gag on "The Simpsons," he is made to write "the Giving Tree is not a chump" repeatedly on his classroom chalkboard in the opening credits of a 2002 episode.
But what does the book really mean? "It's about a boy and a tree," was all the author had to say by way of plot summation, as recounted in the 2007 biography A Boy Named Shel. "It has a pretty sad ending." What are were we to do, then, with no concrete answers from the owner of the face on the notoriously anguished author photo on The Giving Tree's back cover? Perhaps it is as Oscar Wilde wrote in his preface to The Picture of Dorian Gray: "There is no such thing as a moral or an immoral book. Books are well written, or badly written. That is all."
Still, I return to the undercurrent of irony I find so palpable in the story, a tone so seemingly absent in the eyes of so many of its readers. Part of The Giving Tree's lasting power rests in the tension between the cartoonish simplicity of the drawings -- not much more than sketches really, black ink minimally unfurled over stark white pages, only its cover in bold green and touches of red -- and the brutal dismantling of the tree. The same is true of the story's words, whose ease of language isn't melodic so much as hypnotic. "Come, boy," the tree repeatedly invites, to climb, to play, to take. In the end, the boy, now an old man seated upon the tree's stump, wears a ghost of a smile, his eyes shocked wide and haunted.
In July, The Giving Tree became the answer to a different question in the "By the Book" column. Lynne Cheney cited it as the last book that made her cry, and added "I have to steel myself before I read it to my grandchildren." Whether Ms. Cheney cries because she finds poignancy in the tree's selflessness, or rather in its exploitation, is a question all its own. The child psychologist Bruno Bettelheim, in his 1976 landmark study of fairy tales The Uses of Enchantment, implored adults not to elucidate such stories to children, only to share them. "We grow, we find meaning in life, and security in ourselves," he wrote, "by having understood and solved personal problems on our own, not by having them explained to us by others." The meaning behind the book flared up yet again in the Book Review in October, when Anna Holmes and Rivka Galchen debated The Giving Tree's merits in the "Bookends" column under the title "The Giving Tree: Tender Story of Unconditional Love or Disturbing Tale of Selfishness?"
We live in an age of questioning, however -- Ask the author! Tweet the showrunner! Q&A after the screening with the director! -- and one can't help but wonder whether an artist's license to traffic in ambiguity is slowly slipping away (just ask David Chase, who still makes headlines each time he reluctantly addresses the uncertain finale of "The Sopranos"). Perhaps as readers we're trained to find parables in stories, even when they might not exist.
There's no more asking about The Giving Tree, though; Silverstein died in 1999, and the farthest he seems to have gone in terms of explicating anything close to his own intentions regarding the book's message was to say that "It's just a relationship between two people; one gives and the other takes." In never satisfying our craving for explanation, Silverstein followed Bettelheim's edict, thus ensuring that, for good or ill, The Giving Tree would keep on giving -- and its ever-aging boy, taking -- for many years to come.
More book recommendations from Off the Shelf
Get Off the Shelf delivered daily to your inbox. Subscribe here.

SUBSCRIBE AND FOLLOW
Get top stories and blog posts emailed to me each day. Newsletters may offer personalized content or advertisements.
Learn more