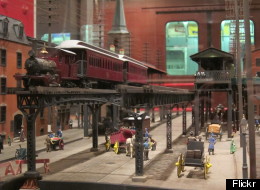 You know the Brooklyn Public Library, Brooklyn Academy of Music, Brooklyn Museum, Brooklyn Botanical Gardens, the Brooklyn Children's Museum and the Jewish Children's Museum.
Think you've tapped all Brooklyn can offer a culture junkie? Think again. Brooklyn is a borough that keeps on giving, and there's plenty more to explore.
Take in some history, with a healthy side of quirk, at these nine off-beat Brooklyn museums.
For more car-free getaway ideas from Manhattan, visit offMetro NY.
-- Jaclyn Einis
9 Off the Beaten Path Museums in Brooklyn
For all that time you spend underground, wouldn't it be nice to know a thing or two about MTA history? The New York Transit Museum digs into the history of urban public transportation through public programs and exhibitions of NYC Subway, bus, commuter rail and bridge and tunnel system artifacts. Housed in Brooklyn Heights' decommissioned 1936 IND Court Street subway station, the museum is the largest of its kind in the country. Long-term exhibits include Steel, Stone & Backbone: Building New York's Subways 1900-1925 and Fare Collection, an interactive look at collection devices used since the subway's inception. They also operate the (free) Gallery Annex at Grand Central terminal. Admission & Hours: Adults $7, Children 2-17 and Senior Citizens (62+) $5, Seniors Free on Wednesdays, Members Free; Tuesday-Friday 10 a.m.-4 p.m., Saturday and Sunday 11 a.m.-5 p.m. (Children under 17 must be accompanied by an adult.) Directions: Take the 2, 3, 4 or 5 train to Borough Hall. Or consult the museum's website for other routes.

Give Lady Liberty a wave as you hop aboard the 1914 Lehigh Valley Barge #79 for a lesson in the history and current state of New York's waterways and waterfront. David Sharp, the floating museum's resident director and tour guide, bought the half-sunken railroad barge in 1985 for one dollar. Three hundred tons of muck-removal later, the resurrected barge was ready to move from Edgewater, New Jersey to Brooklyn. Today, the Lehigh Valley Barge is a hub for maritime memorabilia and cultural events, like the circus -- no surprise given Sharp's past as a cruise ship clown. Admission & Hours: Free (donations welcome); Open hours Thursday 4-8 p.m. and Saturday 1-5 p.m., for special events or by appointment (school and group tours welcome; $7 per person) Directions: Take the A, C or F train to Jay St.-Metrotech station (Smith Street station is closed until 2013). Walk south along Jay Street (which becomes Smith Street) to Livingston.

Founded in 1863, the Brooklyn Historical Society aims to connect Brooklyn's past to the present. Take a trip back to a time when horse and buggy stood in Zipcar spaces through the museums impressive photo collection and exhibits like "An American Family Grows in Brooklyn: The Lefferts Papers," a look at Brooklyn's journey from farmland to urban center through the letters, journals, photographs and other documents of one of the borough's first families. If you too are Brooklyn (or Long Island) born and bred, the museum might inspire you to explore your own family history in the building's Othmer Library (appointment recommended). Admission & Hours: Adults $6, Seniors (62+), Students (12+) and Teachers $4, Children (under 12) and Members Free. Wednesday-Friday 12-5 p.m., Saturday 10 a.m.-5 p.m., Sunday 12-5 p.m. Library open Wednesday-Friday 1-5 p.m. Directions: Subway: 2, 3, 4 or 5 to Borough Hall, A, C or F to Jay Street/Borough Hall or M or R to Court Street.

The kid- (and adult-) friendly Wyckoff House is the city's oldest house (ca. 1652). The farmhouse museum offers house tours and hands-on experiences to educate visitors about early colonial life and agriculture. The museum is open only to guided tours, including small walk-in tours and special group tours (six or more people). Reserved tours include a "Cellar-to-Attic" tour, "Farming & Science," with an opportunity to make your own coleslaw, relish, pickles or ketchup and "Colonial Life," a look at an indentured laborer's path to riches, with a lesson in butter churning or herb and sachet-making. Admission & Hours: Adults $5, Seniors & Students $3, Children (5 and under) and Members Free; Tuesday-Sunday (April-October) and Tuesday-Saturday (Novemeber-March). See site for tour times and booking information. Directions: Wyckoff is easily accessible by a variety of public transit options. Consult the website for specific directions.

See Coney Island antiques and relics, like the Steeplechase Horse, vintage bumper cars, old Mermaid Parade photos and the Boardwalk Rolling Chair. Coney Island offered immersive entertainment long before movie theaters existed; running until April, 2012, the Great Coney Island Spectacularium is a celebration of those spectacular amusements. Housed on the second floor of historical 1208 Surf Ave., the small venue offers a great view of Luna Park and hosts special events like the Coney Island Film Festival (with frequent burlesque shows and more at the ground floor Sideshows by the Seashore). Admission & Hours: $5; Saturday and Sunday 12-6 p.m. Directions: Subway: D, Q N or F train to Coney Island-Stillwell Ave. Exit near Surf Ave and Stillwell Ave and head East on Surf Ave.

Once just a rotating window display, City Reliquary became a full-fledged museum in 2006. The bite-sized Metropolitan Street storefront (the original display remains on Havemeyer, between Grand and Hope Streets) packs rotating exhibits of local art and ephemera, plus a permanent collection of New York memorabilia, into two cozy rooms. Peruse the shelves of Rockaway rocks, Statue of Liberty souvenirs, subway tokens, seltzer bottles, Brooklyn Dodgers photos and Little Egypt (the mother of belly dance/burlesque) peep show before heading to the gallery in back. Start saving up change for an expanded gift shop -- the "Dime Shop" -- coming this spring. Admission & Hours: Free (donations welcome); open hours Saturday and Sunday 12-6 p.m. and for special events or by appointment. Directions: L to Lorimer Street. Go West on Metropolitan Ave.

Small venue; BIG ART. The Micro Museum is a non-profit dedicated to interactive, media, visual and performing arts. Kathleen and William Laziza founded the museum in 1986 to share their own work and that of their collaborators. The Downtown, Brooklyn art center boasts the AC/DC window, which isn't what you expect (think less rock; more sun); the solar-powered art window is the longest running kinetic sculpture in the Tri-State Area. Retire to the VIP Room for a hands-on exploration of re-wired technology and rest in a well worn, wired love seat. And yes, you're a VIP. Admission & Hours: $2 (with eight choices of free tours!); walk-ins and special events Saturday 12-7 p.m.; bookings and appointments Sunday-Friday. Directions: Subway: F and G train to Bergen Street. The museum is one block away, between Dean and Pacific Streets.

A prolific shipyard-turned-green industry hub, the Brooklyn Navy Yard holds 300 acres and over 165 years of fascinating history. BLDG 92 opened its doors to visitors in November 2011, providing an outlet for exploring the complex's past, present and future and viewing the art, designs and innovations of the Yard's current tenants. While museum admission is free, bike and bus tours of the Navy Yard are also available for a fee. Admission & Hours: Free; Wednesday-Sunday 12-6 p.m. Directions: F train to York Street or the A train to High Street. Walk North to the Brooklyn Navy Yard (via Flushing Avenue). On Saturdays and Sundays from 12-6 p.m., the complimentary blue Brooklyn Navy Yard van will make continuous loops between BLDG 92 and downtown Brooklyn (intersection: Jay Street and Willoughby Street). The shuttle is easily accessible from the Jay St/Metrotech station (A, C, F, N or R) and is a quick walk from Borough Hall Stations (2, 3, 4 or 5).

Once the kids have had a good run around Prospect Park, take them over to the Lefferts Historic House. Tucked into the Park's "Children's Corner," by the carousel and zoo, Lefferts was transported from Flatbush, where it was once home to an 18th-century Dutch family (visit the Wyckoff Museum, above, to really connect the dots). The museum utilizes traditional games, toys, tools and farming practices to teach visitors about Brooklyn's history, from pre-Colonial Flatbush farm days to the present. Visit period rooms inside, and take advantage of craft activities like candle- or fire-making, plus seasonal events like fall's Harvest Days and the springtime Flax & Fleece Fest. Admission & Hours: Free (admission requested for adults touring the House); Saturday-Sunday & holidays 12-4 p.m. Directions: Subway: Q, S or B train to Prospect Park station.
Photos: Annie Mole, Waterfront Museum, pixonomy, The Wyckoff Farmhouse Museum, The Faded Past , Jaclyn Einis, Micro Museum, Amy Lee Pearsall, Prospect Park
Follow offMetro.com on Twitter: www.twitter.com/@offMetroNY