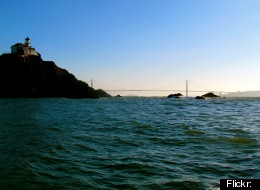 Carrying around our smart phones all day long likely means we've got lots of good and trashable photos eating up megabytes. Whether you're an instagrammer or Nikon junkie, isn't it about time you got inspired to print out and frame a beautiful image?
From a Frank Lloyd Wright House to a Japanese Garden to a Tuscan-style vineyard, enjoy a visit to one of these top 10 photography spots in the Bay Area.
For more getaway ideas near San Francisco, visit offMetro SF.
Top 10 Photography Spots in San Francisco
Famous for the great whites who frequent their surrounding waters, the Farallon Islands are also called "California's Galapagos." Translation: They're perfect for nature lovers -- or those with a taste for danger. (farallones.org) Directions: Join up with a tour of the islands to get anywhere close enough for a good shot. San Francisco Whale Tours depart from Pier 39.

When you think of Napa, you don't typically picture dramatic mountain scenery, but that's what you get at Kuleto Estate, where undulating geography, stunning flora and a Tuscan-style property makes for crazy camera-fodder. (kuletoestate.com) Directions: The winery is only accessible by driving, but it's a beautiful route.

This devilishly titled mountain is heaven for outdoor enthusiasts. Hike, bike or climb to the top, where you can actually see for hundreds of miles -- it's rumored to be the second-most expansive view in the world. (parks.ca.gov) Directions: The hour and a half journey involves taking the BART to Concord and catching the County Connection 10 bus to Clayton Road and Mitchell Canyon Road. Or take BART to Walnut Creek or Pleasant Hill and bike from there (about a 2.5-hour ride).

This Spanish mission is placed in one of the most lush locations in California, meaning pure photography gold. (carmelmission.org) Directions Take Caltrain to the San Jose Diridon Station then hop on an Amtrak bus down to Carmel and transfer buses from Salinas. The trip will take about five hours, or you can drive (2.5 hours).

Stretching out along Santa Cruz's gorgeous coast, this historic boardwalk has everything you need to have a day of fun (and great photos). Smiling faces, tasty treats, colorful and historic coasters, are all there for the photo taking. (beachboardwalk.com) Directions: Take Caltrain to the San Jose Diridon Station. Then take the Santa Cruz Metro Bus 17 to the Santa Cruz Metro Center.

Yes, we have our own Japanese gardens in Golden Gate Park, but sometimes you just want to get away. And the tiny but mighty Hayward gardens (California's first Japanese gardens) provide the perfect place to do that. Directions: Take BART to Bay Fair BART Station, then transfer to the AC Transit bus 99. Get off on the corner of C Street and Mission Boulevard.

Check out this spooky abandoned Naval Shipyard (at night, if you dare) to capture some lingering spirits. (mareislandhpf.org) Directions Take a Blue and Gold Fleet Ferry to Vallejo.

You can't live in or visit California without getting some of those classic shots of its dramatic rocky coast. Point Reyes offers craggy cliffs in spades, plus a smattering of historic buildings, coastal towns and wildlife to keep things interesting. (www.nps.gov/pore) Directions: You can visit more popular locations by taking a Blue and Gold Fleet Ferry to Sausalito and a Marin Transit bus up to Inverness (the park offers shuttles), but if you want the freedom to really explore the area, driving is advisable.

See firsthand what makes Frank Lloyd Wright so important. Designed in 1936 by Stanford professor Paul Hanna, the Hanna House is the first -- and one of the best -- examples of Wright's signature hexagonal buildings.(hannahousetours.stanford.edu) Directions: Take Caltrain south to the Palo Alto Station, then transfer to the Stanford Marguerite Shuttle and get off at Campus Drive and Mayfield South.

Catch a beautiful view of the San Francisco skyline while you watch the throngs who flock to this monthly football-field-sized antique fair. Colorful characters? Yes. Hand-me-down goodies and some seriously weird antiques? Definitely. Maybe you'll even find a vintage camera. (alamedapointantiquesfaire.com) Directions Take the ferry to Harbor Bay, or take BART to Fruitvale and transfer to one of many AC Transit buses that link to Alameda.
Photos: jeffgunn, Ha-Wee, Mt. Diablo, Jonabel Perez, National Register of Historic Places, Thomas Hawk, Franco Folini, Nancy Pizzamiglio, Brett L.
Follow offMetro.com on Twitter: www.twitter.com/@offMetroNY