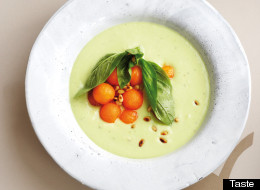 Five Cold Summer Soup Recipes
The secret to this Cream of Asparagus & Spinach Soup is that there is no cream in it! In fact, you can make the soup vegetarian if you use vegetable stock or even vegan if you leave out the cheese.

This Cold Potato & Spinach Soup is based on a cold sorrel soup my mom made when I was growing up in Russia. If you can't find the sour tasting sorrel, use spinach, lemon juice and sour cream. Play around with different herbs such as dill, chives or cilantro to make this soup your own.

Celebrate what would have been Julia Child's 100th birthday with her Cold Leek and Potato Soup. This is an easy to make, but oh-so-very-decadent soup. Potatoes and leeks are turned into silky and smooth soup with the addition of whipping cream. Julia's recipe called for white pepper, but I left it out.

If you love beets and are not afraid of buttermilk, you are going to love this Cold Beet Soup with Potatoes and Buttermilk. Not only is it refreshing on a hot summer day, but it's also absolutely beautiful.

This Cold Black Bean Soup requires zero actual cooking. All you need to do is open a few cans of black beans, add the heat from a chipotle pepper and then customized your bowl with chopped avocado, tomato and cilantro. If you want to lessen the heat, add some sour cream! By adjusting the amount of liquid you add to the soup, you can actually turn it into a black bean dip and serve it with tortilla chips.
Follow Olga Berman on Twitter: www.twitter.com/mangotomato