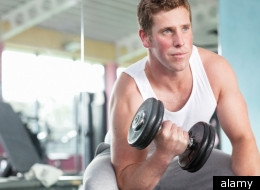 When we think of boxing matches and what helps an opponent win or lose in the ring, most of us think of strength, speed and agility. And these are all true. But professional boxers will tell you that a lot happens before the opponents even set foot in the arena, well before the first punch is thrown. The way the fighters carry themselves--how impressive and intimidating they seem--can play a decisive role in the fight that follows.
Imagine a very large gorilla whose territory has just been invaded by a rival. This alpha gorilla is furious. He goes charging through the jungle, climbs to the highest branch of the tallest tree he can find, and from there wants to broadcast his presence all around and intimidate the rival off his territory. What would he do?
One immediate action would be to inflate his chest and pound it with his fists--both of these actions have the effect of making him look bigger. The pounding also makes him loud and scary. That's what a gorilla charging through the jungle wants to look like: big, loud, and scary. In human terms, we read confidence the same way: how much space people are willing to take up.
Deborah Gruenfeld, organizational behavior professor at Stanford business school, says, "powerful people sit sideways on chairs, drape their arms over the back, or appropriate two chairs by placing an arm across the back of an adjacent chair. They put their feet on the desk. They sit on the desk." All of these behaviors, she says, are ways of claiming space.
You can practice adopting a "big gorilla" posture at home or in the office. This is a great exercise to use before any meeting or interaction where you want to both feel and broadcast confidence--for instance, before a job interview, or before meeting someone who's a bit intimidating.
Once you know how to stand and move like an alpha, you'll learn to speak like one too.
You can't be imposing without oxygen. One of the first things I question my clients when we work on projecting charismatic body language is: "What's your breathing like right now?" Anytime your breathing is shallow, you activate the stress response. It's hard to feel calm, relaxed, and confident when you're not getting enough oxygen and your body thinks it's in fight- or-flight mode. Make sure you can breathe, so avoid constrictive clothing. Taking even just one deep, slow, full breath can instantly lower your stress level, increase your feeling of confidence well-being, and even boost your immune system. So give it a try: inhale slowly for five counts, hold for two, and exhale for five again.

First things first: you need a solid foundation. Stand up and shake up your body. You could jiggle your arms and legs, maybe even bounce up and down. Now take a wide stance and plant your feet firmly on the ground. A wide, stable stance helps you both feel and project more confidence. And this, ladies, requires shoes that are stable. Your brain's first job is to monitor your safety, whether it's your ability to escape predators or your ability to stay upright. If it has to spend any of its attention worrying about your breathing or your balance, that means that at least one part of your attention can't be devoted to your speaking success. Why waste any of your focus?

Stretch your arms to the ceiling, then to the walls on either side of you. Then let your arms fall to your side. Roll your shoulders up and back. Now imagine being a big gorilla: inflate as if you were trying to double in size. Assuming a strong, confident physical posture will make you feel more confident and more powerful. People who assume expansive poses experience a measurable physiological shift. In one experiment, assertiveness- and energy- promoting hormones rose by 19 percent, while anxiety hormones fell by 25 percent. As confidence rises, your body language adapts accordingly. This gives you yet another biochemical boost, and the cycle builds upon itself. Keep practicing, and confident body language will become second nature.

Can you imagine James Bond fidgeting, tugging at his clothing, hemming and hawing before he speaks? Of course not. Bond is the quintessential cool, calm, and collected character. He epitomizes confidence. High-status, high-confidence body language is characterized by how few movements are made. Composed people exhibit a level of stillness sometimes described as poise. They avoid superfluous gestures such as fidgeting with their clothes, their hair, or their faces, saying "um" before sentences, or incessantly nodding their heads. Such gestures are identified by behavioral experts as "low-status." Just remember that nodding once for emphasis or to express agreement is fine and can be an effective communication method, but nodding three or four times in rapid succession is not.

Imagine a nervous teenage girl speaking at high pitch and high speed. Now imagine the slow, emphatic tone of a judge delivering a verdict. Hear the difference? People who broadcast confidence not only speak slower, they also often pause while speaking, whether between sentences or in the middle of a sentence. This conveys their belief that who they are or what they're saying is so important others won't dare interrupt. "I think (pause) we should say yes (pause). If you want to sound like a real alpha, lower the intonation of your voice at the end of sentences. You know how a voice rises at the end of a question? Just reread the last sentence and hear your mental voice rise. Now hear the judge declaring "This case is closed." The intonation of the word closed drops. Lowering the intonation of your voice at the end of a sentence broadcasts certainty.

Did you know that the colors you choose can influence the way people perceive you? Here are a few quick tips from social psychologists' research in the matter: Red: ambition or passion. Useful to wake up an audience. Black means you're serious, and won't take no for an answer. Blue: trust. The darker the shade, the deeper the trust it elicits. Gray: quintessential color of neutrality in business and politics. If you're looking to come across as an alpha gorilla, here are a few to avoid: pastels, particularly pale pink. It has a hint of sweetness and fragility. Realize also that people will subconsciously associate the quality of the fabrics you wear, to your personality. Wearing something soft and fluffy, rather than crisp and starched, will affect how you are perceived.

...And with all of these recommendations, the single most important thing you can do to come across as an alpha gorilla is to convince YOURSELF that you are one. And it's easier than you think: the human mind has rather impressive abilities to persuade itself of pretty much anything. You can use many tools for this: visualization techniques (what athletes use in sports psychology), hypnosis, or writing techniques. The latter are simple, effective, and you can do them on your own. Simply sit down and write (pen to paper) whichever belief you would like to convince yourself of. Get as detailed as you can; involve details for all five senses. Though it may feel awkward at first, if you do this exercise nightly for seven days, you will be amazed at how fast the belief sinks in to your subconscious. In this particular case, it's mind over matter, indeed.
Olivia Fox Cabane is the author of The Charisma Myth [Portfolio, $25.95].