In the past week a series of disturbing events around the world have spelled bad news for girls.
A video of a teenager being flogged in the Swat, and the clouded case of Pres. Karzai "legalizing rape" offered more evidence that women's rights are retreating in Pakistan and Afghanistan, yet in other parts of the world serious causes for concern batted fewer eyelashes.
From the rise of polygamist politicians in South Africa, to Michelle Obama's G20 headline-grabbing makeup tips, to erasing images of women in Israel, there are signs that the scales of gender equality are tipping in the wrong direction.

Consider the curious case of Jacob Zuma: On Monday South African courts cleared the way for this polygamist populist to become president later in April. The courts, who Zuma effectively puppeteers as Chairman of the African National Congress, dropped decade-old charges of racketeering, money laundering, corruption and fraud because of a procedural point.
Two years ago Zuma was acquitted of raping the daughter of his friend, a prominent HIV positive activist, 30 years his junior. At the time he argued that the woman had provoked him with her short skirt, and then famously reassured reporters that he had showered after intercourse to reduce his risk of infection.
Records of Zuma's arms deals and shady political connections are comically easier to find than reliable numbers on how many wives the 68-year-old Zulu tribe member has. In 2007 one of them sent a suicide note to a TV station describing "24 years of hell" being married to him. The current wife-tally stands around four. Eighteen seems to be the most widely reported figure for Zuma offspring.
I wonder what the Obamas will make of all this, if and when a South African state visit occurs.

If this past week is any way to gauge, perhaps Michelle and Zuma's wives will give grooming tips to hospital patients.
As Emma Duncan, Deputy Editor of The Economist, observed in the Sunday Times, the [G20] spouses were packed off on a programme of the sort that the Saudi Arabian monarchy's social secretariat might have thought up for the third wife of a visiting dignitary."
"Michelle Obama was taken to a women's cancer hospital and then to a girls' school, presumably on the grounds that nursing and teaching are the only occupations suitable for ladies. Did she and Sarah Brown meet consultant oncologists to discuss developments in radiology? No, they went to the make-up unit, where Obama shared some top tips."
Though Duncan's criticism may be harsh, her point is valid, and was underscored by the wives' entertainment --J.K. Rowling reading from her latest book --and the choice of dinner guests, e.g. instead of Attorney General Patricia Scotland, Naomi Campbell made the list. (The last G-8 summit in Japan offered the ladies kimono-folding class.)
All this is particularly troublesome because both the U.S. and U.K. first ladies were both once independently successful career women, and appear to now have retreated to more derivative and feminized domestic roles.
"If Downing Street and the White House like the idea of political wives being helpmeets and mothers rather than people in their own right, it isn't surprising. The previous leaders' wives, Cherie Blair and Hillary Clinton, loomed a little too large for comfort," Duncan argued.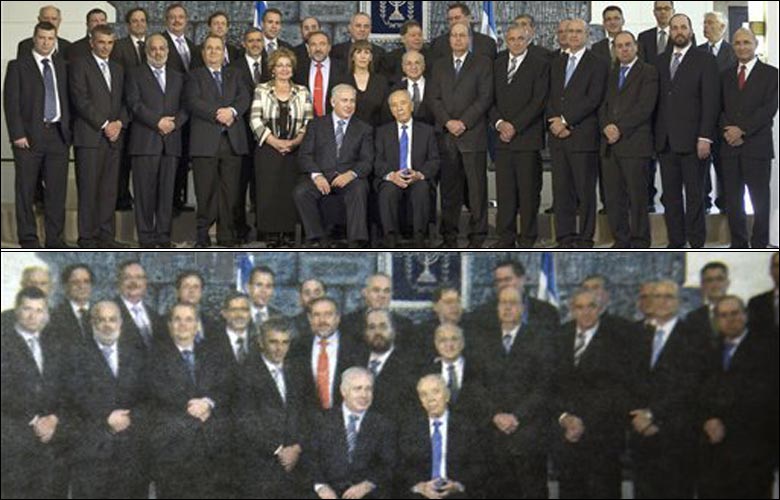 Meanwhile women who've made their own political careers in Israel received the ultimate photoshop snub this week. Two orthodox newspapers literally erased the images of the two female members of Prime Minister Netanyahu's new cabinet from the 30-person photograph. This type of editing out is nothing new for the ultra religious sects, who believe that printing pictures of women is "immodest."
Follow Olivia Sterns on Twitter: www.twitter.com/OliviaSterns